Behind the Lens: With Jamie Foxx
Jamie Foxx talks gear while on set for Canon's Project Imaginati10n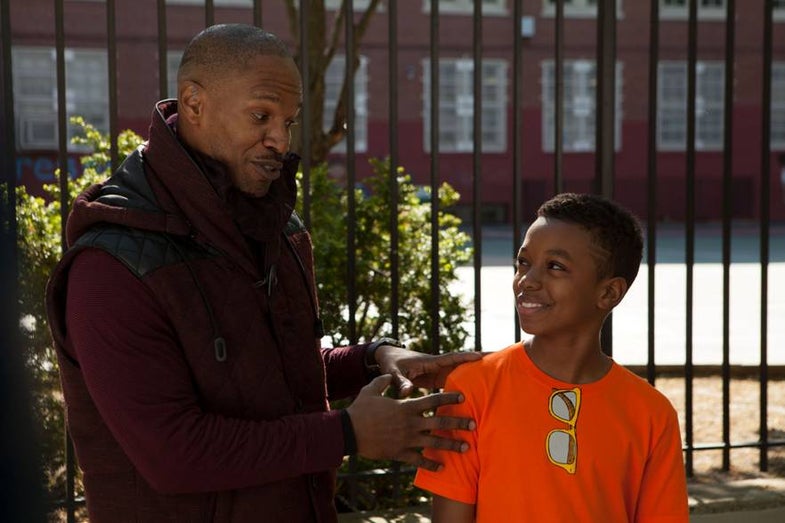 A small army of minions swirl about a converted warehouse studio in Sunset Park, Brooklyn where Jamie Foxx is slouched in his director's chair. He flips through photographs, firing off associative words and phrases while rapidly shuffling through the 10 images, providing a glimpse into how the public would influence his movie.
"Young Frankenstein," he says, and flips to another print. "He's out of the cage. Everyone wants a piece of your hide."
The photographs come from Ron Howard's collaboration with Canon, Project Imaginat10n, a photo contest that began last August and yielded a pool of 91 winners. Those gems were then given to a gang of celebrity directors — Foxx, Eva Longoria, Biz Stone, Georgina Chapman, and James Murphy — meant to to be used as inspiration for short films shot with Canon cameras.
Foxx is no stranger to the director's chair — he helmed episodes of The Jamie Foxx Show and the bizarre Nite Tales projects — nor Howard. The two first collaborated in 2009 for Foxx's star-studded "Blame It" video, which came out of a chance meeting at President Obama's 2008 inauguration. Foxx told us that Howard's involvement in any project immediately elevates its status and respect, and praised his brief but memorable cameo in the video. "Ron really made that thing pop," he says.
But for the real amateurs, those of us who don't have run-ins with Ron Howard on Capitol Hill, there's still hope. A conjoined film contest asks amateur shooters to select ten 10 photographs, each representing one of 10 themes, and to create their own short. Howard and his daughter, Bryce Dallas Howard, will select five winners to take home the $5,000 cash prize, but dawdling is not advised — the submission window closes on July 23.
For Canon, these productions are a chance to prove their C-line of cameras worthy of a big-budget movie. For his project, Foxx tasked veteran cinematographer Anastas Michos, A.S.C., with getting the most out of the EOS C500: Shooting in 4K with rigs married to Codex recorders, Michos admits having to adjust to the new digital tools, but relished the challenge.
"When I shoot film, the film stock I use is my artistic approach," he says "The camera I use is pretty much whatever was the most robust thing that I could bang around. The artistic choice is what film was going through. We're now in an era when we're choosing the aesthetics through the hardware."
Michos, who calls Foxx "a very intuitive director," likens the working environment to making jazz music: "We set down the standard, you know, but the direction it goes in is called by the band leader, and you just go roll with it."
The results of Michos and Foxx's jam sessions, a still-untitled project starring Tyrian Turner and Nichole Galicia, will be played alongside the five contest winners and the other celebrity-director films at the Canon Project Imagination Film Festival, to be held in the fall.