Dove Releases Photoshop Action To Undo Skin Retouching
In a guerrilla marketing move, Dove secretly released a Photoshop that would undo the work of retouching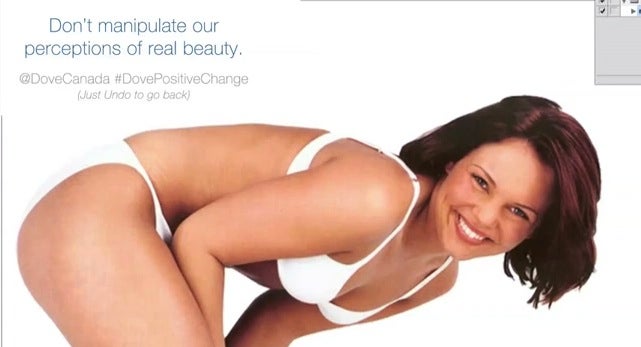 It's a project that started as a rather clever bit of guerilla marketing. As part of the Campaign for Real Beauty that Dove has been running for the better part of a decade, the company quietly released a Photoshop action onto various websites, promising to retouch the image to give it a "beautiful glow." Instead the action would undo the existing retouches on the image, and add a banner saying "Don't manipulate our perceptions of real beauty." Unfortunately, what failed was the execution.
The campaign has an incredibly smart core concept: targeting the retouchers themselves, rather than the consumers. Unfortunately, just about every other part of it has been mishandled. The file was released on Reddit multiple times where it garnered almost no attention — not in the least because the sample the uploaders gave of what the action pretended to do looks utterly hideous. Also, the users behind the post (and discussing it elsewhere on the site) were obvious sockpuppets, used just for this topic.
According to the Verge, who actually took the action for a spin, it's not even very good. As they put it:
It's an interesting way to approach the debate about retouching in advertising. But lets not forget, that even though Dove rails against image manipulation, the Campaign for Real Beauty photos have been accused of being extensively retouched — just not quite to the extent of some other advertisers. Maybe Dove should start releasing their images straight out of camera.