Photographer Of The Infamous New York Post Cover Photo Appears on the Today Show
The photographer behind the controversial New York Post cover has come under a barrage of scrutiny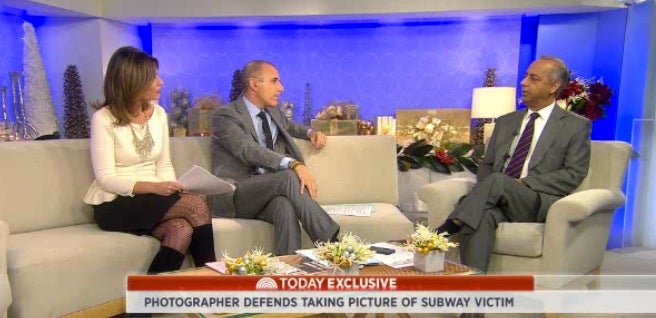 Yesterday's New York Post cover showed a man about to be killed by a subway train, and the photographer who took the shot instantly became the target for intense media scrutiny. People claimed he should have tried to help the victim rather than fire off photographs. Freelance photographer R. Umar Abbasi was out on assignment for the Post when the incident happened, and has come forward to speak about the event on this morning's Today Show.
Abbasi's actions have been widely criticized, but it's extremely difficult to know what exactly happened, and what Abbasi could have — or should have — done to help. Abbasi claims that he was too far away to directly intervene, and instead ran forward firing his camera to try and alert the train driver that something was amiss. While this may sound bizarre, he managed to fire off 49 shots, which seems to back up that he wasn't exactly trying to compose images or anything. Abbasi also stated that the driver did slow down from the flashes, and that he had no say in the image being used by the Post, as he left the memory card with the images in their hands.
In the wake of the incident, the Post released a statement from Abbasi, and Gawker has done an interesting roundup of what other photojournalists are saying about the situation. It seems that the general consensus is that you can't claim to know what Abbasi's intent was, and that photojournalists shouldn't intervene. However it was the New York Post that ran the image, and the burden of it being on the front page lies solely with them.