Begging Over Social Media Is How The News Gets Photos Now
Want your picture to be famous for five minutes? You'll have plenty of chances.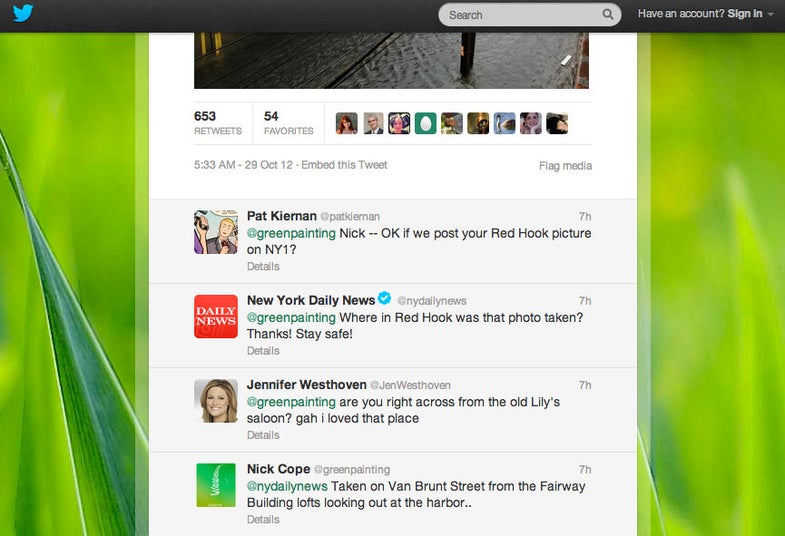 There have been many articles written from just about every angle about how citizen journalism via social media is pretty much the new norm. Try to watch any news channel for more than 3 minutes without having a Tweet read to you or seeing someone's Instagram photo. You can't do it. But as Hurricane Sandy is hitting the east coast, this is more evident than ever.
The screenshot above is from a photo posted by Twitter user Nick Cope. It shows Red Hook, Brooklyn flooded by a storm surge. It's a fine picture with a very interesting subject, but it's funny to see how many news outlets can be found in the discussion portion of the page asking for rights to use the image. Local NY news station, NY1, The New York Daily News, HuffPo, Weather Nation and others all make an appearance.
Even Storyful makes an appearance. They're a pay service that provides bits of information to news organizations.
In a way, the comment section is being turned into a make-shift contract, but the legality of the whole thing is murky at best. If you upload an image directly through Twitter, you've already granted them a pretty generous license, which would allow them to syndicate the photo wherever they want without so much as involving you.
Then there's the requests in the comments. Licensing an image generally involves a contract and terms. And while some of these outlets may use Twitter or Instagram as a starting point, the super-fast news cycle often doesn't allow for that kind of process. As soon as you reply, "Sure!" it'll likely be live, well, everywhere. It might even be in the paper tomorrow. Then it'll likely be forgotten.
I know it sounds like I'm being all doom and gloom about this, but I don't think it's all bad. The idea of photo coverage in almost real time has its place in our current constantly-on news cycle. But, we'd also like to see people getting compensated for their content.
Some news agencies crawl Twitter and Instagram and other social media outlets for photos that they then farm to outlets through official channels. Getty has had an official deal with Flickr for some time and it has grown to over 500,000 images. Getty also runs a Twitter account called @GettyImagesWant, where they crowd source images to license.
For some people, the thrill of seeing your image all over the place is more than enough compensation, and I get that. But, if you're thinking all that exposure is going to somehow pay off in the long run, just know that it's rather unlikely.