Photographer Shoots, Prints Wet Plate Photo Directly onto his iPhone Glass
Using the 161-year-old collodion process, Jake Potts was able to turn the back of his phone into a one-of-a-kind ambrotype photo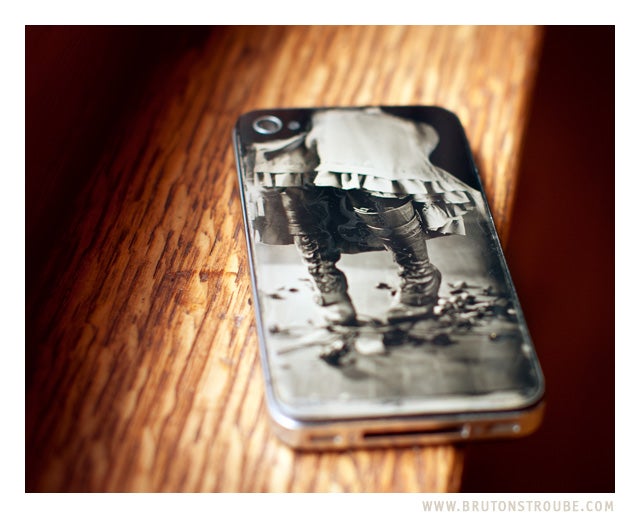 It really doesn't get much nerdier than this, and by that we mean totally awesome: Using a 160-year-old photo process (well, 161-year-old), photographer Jake Potts transformed the back of his iPhone into a one-of-a-kind image.
Jake started out by fashioning a custom holder for the glass panel of his iPhone, that could be attached to the back of his camera. The lens of that camera, by the way, is from 1872. After cleaning the panel, Jake coated it with collodion, a photo-sensitive chemical. Because the collodion dries in as fast as 10-15 minutes, Jake had to shoot his frame and get the glass plate to the darkroom to be developed in a hurry, meaning he had to have his model set-up and lit, with a proper exposure, beforehand.
Seems like a lot of work, but the result of his labor is nothing short of incredible. Jake is a professional photographer at Bruton Stroube Studios, check out their site for an in-depth look at the process, with photos of each step. You can also keep up with Jake's camera nerdom by following him on Twitter
Know anyone who has tried something similar, or thinking of trying something like this yourself? Give us a shout, we'd love to hear about it/see the results.
[via PetaPixel]