Photographer vs. Bull: Camera Makes it Out Safely
Reuters photographer gets too close to the action at the running of the bulls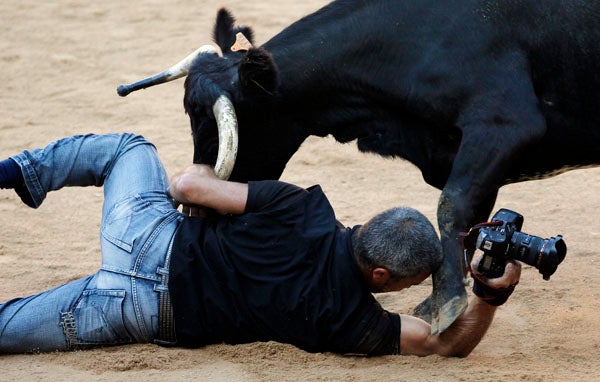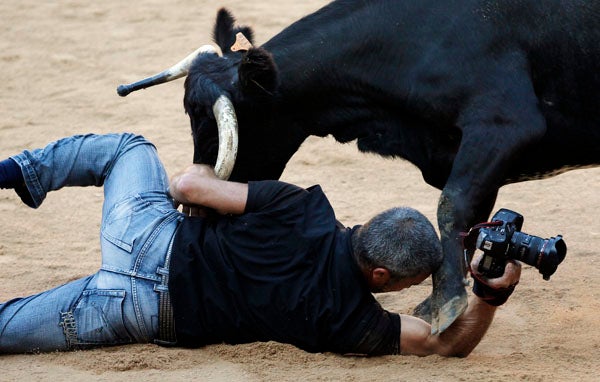 bulls
Reuters photographer Joseba Etxaburu is knocked down by a wild cow during festivities in the bullring following the sixth running of the bulls of the San Fermin festival in Pamplona July 12, 2012. Etxaburu suffered some scratches on his right elbow but was able to continue shooting afterwards. REUTERS/Susana Vera (SPAIN – Tags: SOCIETY ANIMALS)
Joseba Etxaburu is a photo stringer for Reuters, but when he's not snapping shots on assignment, he works as a fireman. Which might explain his penchant for risk-taking—he's been capturing the San Fermin festival in Spain (aka the running of the bulls) for 12 years.
At this year's event, he wanted a different angle on the action as the wild cows were released into the bull ring. So he went in with a wide angle lens and tried to keep an eye on the fast and bad tempered cows. Here's his account of what happened with one cow:
"She kept her eye on me and started advancing. I tried to back away using a circular motion. It's never a good idea to run to or from bulls or cows in a straight line. They are faster than you and will catch you. They have less ability to turn than we do and there's a chance you can out-turn her. On this day though that didn't happen. She came at me and while I was trying to dodge, I slipped."
He ended up receiving a few injuries, but his camera was fine. "I grabbed onto her horn to stop her tossing me," he claims. "It worked but she stepped on my elbow, which is the biggest scratch I got that day. With my other hand I held onto my camera. Those things aren't cheap." They certainly aren't.
via. Reuters