Personal Vacation Photographers On The Rise
You may be staying close to home to save money this summer, but some people are booking a pro to shoot their vacation shots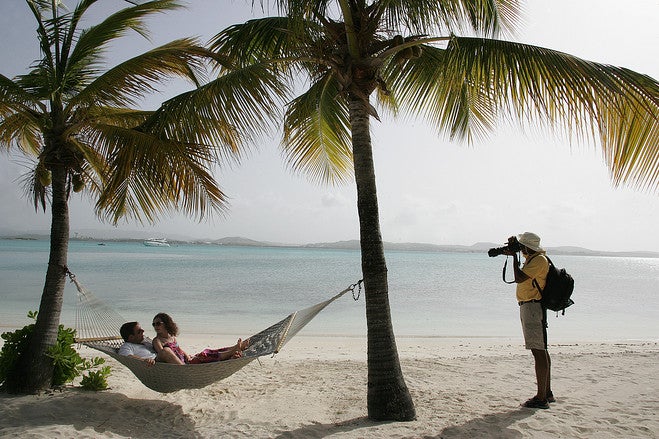 If you thought the idea of hiring a professional photographer to capture a marriage proposal was over the top, you probably aren't the target audience for a personal vacation photographer. But that doesn't seem to be an issue, because it turns out there are plenty of other people in the market to have their family and romantic vacations documented by a pro.
According to The Wall Street Journal, more and more hotels and resorts are offering sessions with photographers to chronicle guests' vacations. "Travelers want to record memorable moments without ruining them stressing about focus and flash. They want more sophisticated shots to share on social media. And vacationers realize that an iPhone may not catch that perfect surfing or skiing triumph."
While it's refreshing that in our over Instagramed world, some people are realizing that some iPhone photos aren't actually very good. But many people enjoy taking photos on vacation, so "focus and flash" aren't exactly stressful. Still, for unskilled photographers, getting a decent family portrait while on vacation does have its appeal. In 2010, Walt Disney World started selling a $350 one-hour "Enhanced Portrait Session," that includes retouching and a customized photo book. Spending a couple hundred bucks on vacation photos may seem like a lot, but it does come with a perk: you get to wander around the Epcot theme park before it opens to other guests.
Perhaps more irksome to your Facebook friends, are couples' packages like the "Romance" or "Together" packages offered by resorts in places like Bora Bora, to document every hand in hand stroll down the beach, or hammock make out session. The price tag for the Together Package in Jumby Bay starts at $10,500 for seven nights.
While it may be annoying to flip through a friend's vacation shots that look like they could double as a Sandal's Resort ad, this possible trend is good news for photographers– some independent freelance wedding and adventure photographers are starting to offer vacation travel shots, seeing them as a lucrative side business.
Via. Wall Street Journal