Model Coco Rocha's Elle Brazil Cover Shows More Skin Than She Wanted Thanks to Photoshop
A digitally removed body suit is at the heart of the latest photo manipulation flap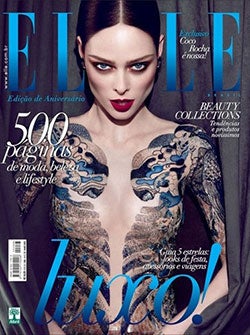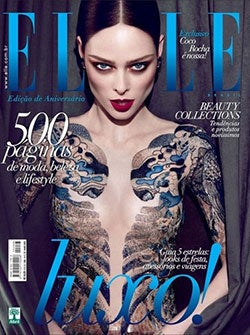 In the latest uproar over Photoshop liberties taken, model Coco Rocha took to her Tumblr to criticize her cover treatment on the May 2012 issue of Elle Brazil. On the cover, she's wearing a Julien MacDonald dress that looks to us as if it has, in reality, a good part of the front cut out. Rocha says that when she posed for the picture, she was wearing a bodysuit under the dress that was subsequently removed by retouchers. She appears to be a showing more skin than she prefers, and on her blog complains that the magazine went against her written and verbal no-nude policy.
We are all for the rights of models to dictate how they'll be portrayed, particularly if the public is tricked into thinking they bared more than they did at the shoot. But we were curious – how could this happen with a model as famous and as powerful as Rocha?
We spoke to a senior photo editor at a top women's fashion magazine who told us, on the condition of anonymity, that she couldn't believe it either, but more because she was surprised that Roche didn't assume, or guess, that this would happen. The editor told us that it's common practice for a model to wear a bodysuit under a dress like that, and that, particularly if the bodysuit is not part of the look's design, it is understood that it will be removed during postproduction. It is, after all, a fashion magazine, and the photo must look like the dress. Particularly, said the editor, when it's an image that's being shot for the cover.
And what to make of the latest minor uproar? We can't manufacture much shock at this point, considering that such heavy retouching is endemic not just in fashion but in most magazines and advertising. When we see a model or a celebrity on a magazine cover, we think "photo-illustration" not "photograph." At minimum, we are always glad when de rigeur retouching gets press, because we think that today's viewers, and young women in particular, must be literate readers of images. They must know that they beauty they see in a magazine is enhanced, corrected, and created as a commodity, and that it is not the same as reality.