And The Mother's Day 2012 Photo Assignment Winner Is…
A happy mom and her kids take the prize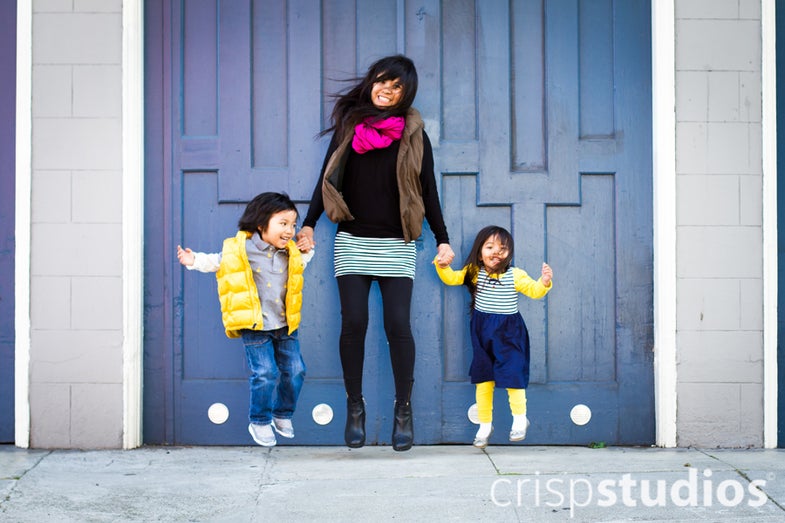 This Mother's Day, we asked you to go out and make a photo of a mom. She didn't have to be your mom. Heck, she didn't even have to be human. You guys came through, as always and there were some truly excellent entries. In the end, though, there can be only one, and that entry came from Mac Rarangol.
The image is a familiar concept done well. The jump shot is a staple for portrait photographers, especially when kids are involved and this one executes it nicely. The expressions are great and there's interaction between the children. The background is vibrant without being distracting. Even the styling is on-point with the complementary outfits.
Mac wins a Lensbaby Composer Pro with Double Glass optics and a 16″x20″ canvas print from MyPix2Canvas.com.
We'll be doing more Weekend Photo Assignments in the future, so don't worry if you didn't win this time. You'll have many more chances. If you want to play right now, though, you can check out our Contests page to see what we have going on at the moment.
Thanks for playing and happy belated Mother's Day to all you moms out there.
Photo tech specs:
CAMERA: Canon 7d
FOCAL LENGTH: 50mm
SHUTTER SPEED: 250
LENS: 50mm
ISO: 250
APERTURE (F-STOP): 3.5