Pakistani Actress Suing Magazine For Photoshopping Her Pants Off
Veena Malik insists she was never fully nude at the photo shoot, while the magazine claims they have video evidence to the contrary.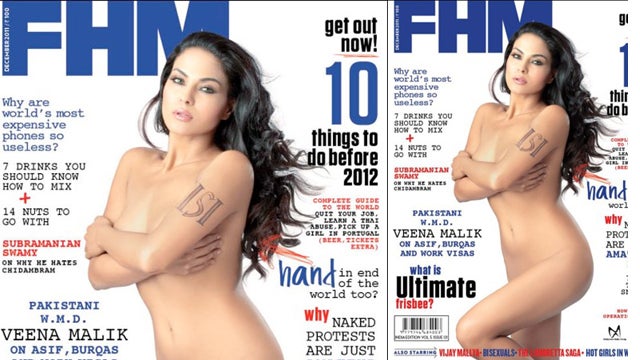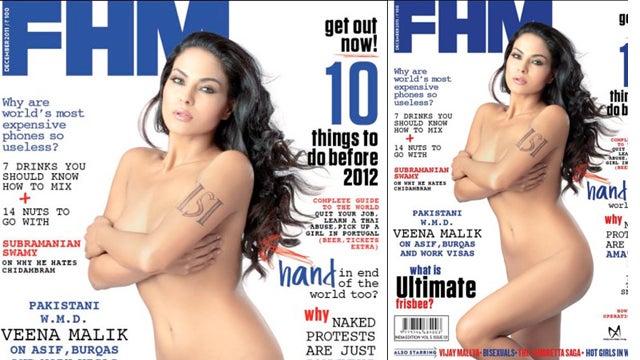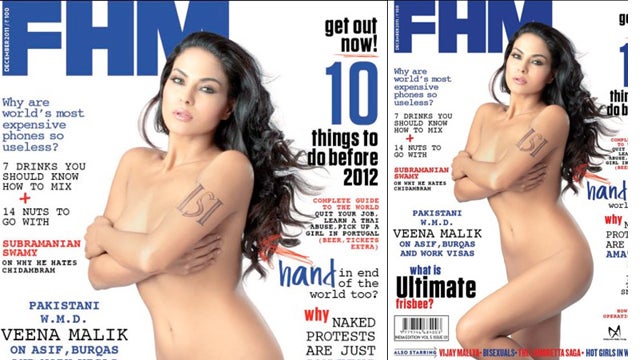 Nude Cover shot
Actress Veena Malik is suing FHM India for $2 million after the latest issue features her naked on the cover. The actress, who was accused of "shaming" Pakistan by appearing on an Indian Big Brother like Reality TV show earlier this year, says that she did pose topless for the magazine but insists that she wore a bikini, hot pants and a thong throughout the shoot.
The magazine's editor claims to have video proof that Malik was nude throughout the shoot and that they did not remove any clothing with Photoshop. The lawsuit alleges that beyond removing her clothes, the magazine had also promised to only publish photos that the actress had approved first.
Malik has built a reputation for pushing the boundaries of what's considered appropriate for a Pakistani woman, and she openly criticizes Pakistan and the way women are treated. Deciding which boundaries to push and in what way is one thing, having a magazine publish a nude image of you without your permission is another. Since the publication, the Pakistani government has said that her citizenship may be revoked as a result of the image.
It's almost assumed that images of women in magazines or ads are retouched and often unrealistic depictions of their bodies. But situations like this one (or H&M's recent use of real model's heads on computer generated bodies), where image editing creates a fictional misrepresentation of the person, the results can be even more damaging.
Via. Jezebel