CoverGirl Ad Pulled For Using Photoshop
U.S. advertising regulators make steps to ban the misleading use of Photoshop in all cosmetics ads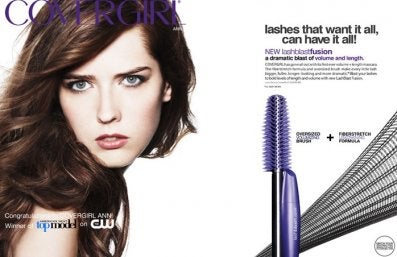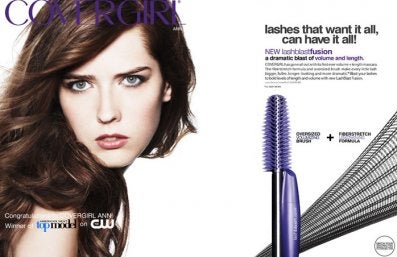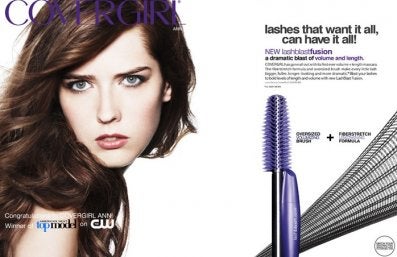 CoverGirl
As consumers, we've come to know that we generally shouldn't believe our eyes when it comes to advertising. Those frozen dinners always look about a million times better on the package then coming out of your microwave, and no matter how much I flip my hair, it never looks like the women in the shampoo commercials. But we've come to accept this enticing altered reality, manufactured with stylists, lighting, and good photography skills.
The use of post-production and Photoshop, however, has long been stickier territory. When editors and advertisers alter bodies to create distorted proportions (or even remove clothing or bodies completely), it rarely goes unnoticed. But it usually goes unpunished—until recently.
Procter & Gamble has agreed to stop running an ad for its CoverGirl NatureLuxe Mousse Mascara, because it used "enhanced post-production" and "photoshopping" to make eyelashes look thicker than they actually were using the product. The company's decision was a result of a ruling by the National Advertising Division (NAD), a watchdog arm of the Better Business Bureau that imposes self-regulation on advertising.
The move is the latest step that U.S. and international advertising regulators have taken to ban the use of misleading Photoshop in advertising. NAD director Andrea Levine said, "You can't use a photograph to demonstrate how a cosmetic will look after it is applied to a woman's face and then – in the mice type – have a disclosure that says 'okay, not really.'"
The CoverGirl ad did disclose that the image was enhanced, but as Levine notes, that disclaimer isn't exactly prominently placed, and consumers aren't likely to notice it. (note: the ad shown here is a different CoverGirl ad)
The British version of NAD, the Advertising Standards Authority, banned cosmetics ads featuring Julia Roberts and Christy Turlington in July because they used Photoshop, saying that "there was a clear exaggeration of potential product benefits."
Via. Business Insider