Nikon Releases Statement About Floods In Thailand [UPDATED with a statement from Canon]
Record flooding in Thailand has hit Nikon's factories there, putting a halt to production.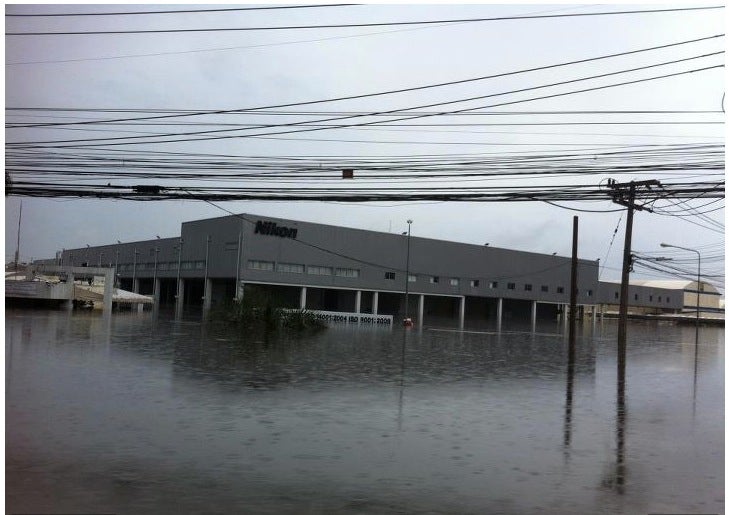 Thailand is currently suffering some of the worst floods in living memory, causing one-third of the nation to be declared a disaster zone. One of Nikon's primary plants is located in Thailand, and has been hit hard by the floods, prompting Nikon to release and official statement. The plants shut down on October 6th, and the entire first floor of all the buildings are currently submerged.
They're currently investigating damages, and don't know if the extent — if any — of injuries to workers.
Nikon is currently requesting the Thai government drain the industrial park so that they can assess the damage and return to production as soon as possible, however given the huge humanitarian damage from this disaster and the significant possibility of the floods hitting Bangkok, the government's attention might be elsewhere.
This is the second hit in a one-two punch against Nikon's production facilities this year, with the first coming from the Japanese tsunami and earthquake that made it extremely difficult to get some of Nikon's flagship products earlier this year, like the D7000.
With production currently halted, the flooding might have a similar effect on Nikon's ability to get cameras out the door, but at this stage we know very little, and they might yet be able to recover without too much of a disruption. If you're interested in an upcoming Nikon product like the new V1 and J1, it would probably be wise to keep an eye on how this situation develops.
**UPDATE: **Here's the official statement from Canon HQ: "Our thoughts and prayers go out to everyone affected by the recent flooding in Thailand. For the safety of our employees, our Canon Hi-Tech Thailand Ltd. factory is closed. At this point, no additional plan has been determined."
[image by noppatjak, via NikonRumors]