Upcoming Christie's Photo Auction Includes Iconic Che Guevara Image
It's been called "the most famous photograph in the world and a symbol of the 20th century," and an original print of the iconic Che headshot is now up for auction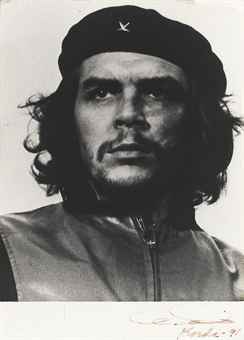 In early November, Christie's is holding a large photographic auction at their London branch, including work from such famous photographers as Irving Penn, Peter Beard, David LaChapelle, and Helmut Newton. Yet fairly far down the price list comes the most famous photograph of the 20th century, found on millions of college dorms, t-shirts, graffitied walls, and art galleries. It's Alberto Korda's portrait of Che Guevara, and it's only estimated to go for £4,000 – £6,000.
The life story of Che__ Guevara, 1960 is an incredibly interesting one, at least in part because Korda wanted no copyright or royalties for the work, and due to Cuba's laws, it's currently in the public domain. Korda never saw a peso for the countless reproductions of his work, though he did manage sue Smirnoff over using the image, and donated his $50,000 claim to the Cuban healthcare system. The ongoing story of the works is an interesting one, and if you're interested, the Wikipedia article gives a pretty good rundown.
While his descendent are currently trying to regain a hold of the image, this photo up for auction is a Korda made original — it's signed, titled and dated. So why is it going for such a reasonable price? An original print of one of the most iconic photos ever taken, for under $10,000? Probably because of the date on it, it's a print from 1991.
Still, if you want to own a piece of photographic history, what better way show off your revolutionary street cred than spending thousands at a high-end bourgeoisie art auction house to score an original?