Photo Of Military Memorial Service Stirs Controversy
A recently released photo of President Obama at the return of the bodies of servicemen who died in Afghanistan has caused a controversy in some circles.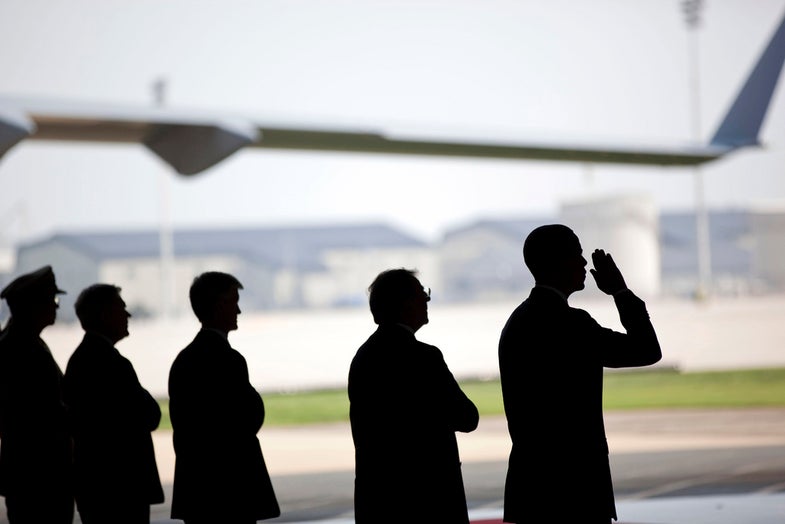 The photo above was released by the White House yesterday, and was the official White House photo of the day. The somber shot shows President Obama in silhouette, saluting as the remains of returned servicemen are brought in. Yet this seemingly respectful photo has prompted a wave of controversy.
Obama was visiting the Dover Air Force Base in Delaware, in order to salute the remains of 30 people who had recently died in Afghanistan — including the 22 members of Seal Team 6 who were shot down in their Chinook helicopter. The somber moment was captured by official White House photographer Pete Souza, and that has caused some problems with other members of the press.
Photography of returning remains has historically been very tightly controlled, and traditionally if any of the families of the dead object, only the approved caskets are photographed. In this case, 19 of the 30 families said no, and the press were told they were not allowed to take images during the scene, despite high interest. They even asked if they could photograph just the officials, but were still rebuffed. That's the point of contention, since the White House widely released a photo on their own.
However, Obama's attendance of the ceremony was a closely guarded secret, with the White House Press Corp not being informed of the plan until the last minute. Once on the ground, they were forced to spend hours in a hanger while Obama talked with the bereaved.
The Pentagon claims that it didn't know that Obama's photographer would be shooting at the event, and that there were no official Pentagon photos of the event.
The image itself is actually quite striking and, in our eyes, quite respectful of the situation. But, it raises some very interesting issues about the rights of the grieving families and the freedom of the press.