10-Year-Old French Model Ignites Intense Debate
Thylane Loubry Blondeau is 10 years old, and already has a promising career in fashion — but her age and the content of her photos has sparked outrage and discussion about the sexualisation of youth.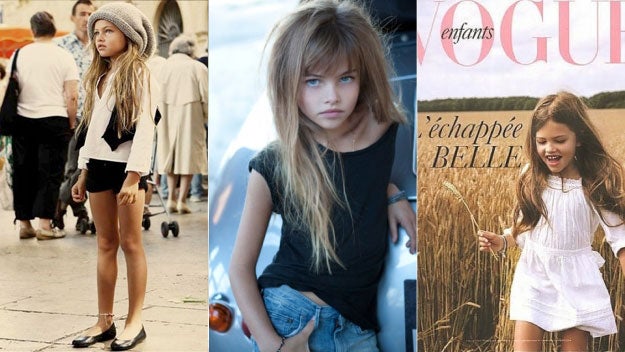 It's hard to say exactly when the scandal started. I first heard about it on Jezebel, when word started spreading of 10-year old Thylane Loubry Blondeau's spread in Vogue France.
Word is that a now disappeared Tumblr blog devoted to her was the cause. Already with a fair few fashion shoots to her name — including Vogue Children, and a few turns on the runway, Blondeau's spread raised the ire of many who thought the photos were overly sexual for a preteen.
Which had done nothing but raise more questions: questions about if nudity is inherently sexual, if these are artistic or mercantile, if they're age appropriate, if this is inherently exploitive. The shots above show the sort of range of photography we're looking at. The Vogue Enfants seems pretty harmless, and I'd argue that the near-nude shot in the Jezebel post may be problematic, but I don't see it as inherently sexual. The middle shot, however, seems troubling. The finger hooked in the jeans, the angled hip, the tousled hair, all are shorthand for the sort of sexuality often found in jeans advertising, which seems disturbingly out of place with someone so young.
Let's not forget the scandal surrounding Brooke Shields' Calvin Klein campaign at the age of fourteen, which included the tagline "You want to know what comes between me and my Calvins? Nothing."
Meanwhile, a woman claiming to be Thylane's mother made this statement over Facebook:
So, are these photos inappropriate? Are they inherently sexual? Do they have artistic merit (see: Mapplethorpe)? Or are the internet commenters sexualizing something that was otherwise non-sexual? Is nudity inherently sexual? What about nudity in fashion? Give us your thoughts in the comments.
For more discussion, see here and here and more pictures here.