Model Sues Estee Lauder For the Wrongful Use of Her Face
Swedish model Caroline Forsling is suing Estee Lauder for $2 million for using a test shot of her in a marketing campaign that she didn't agree to.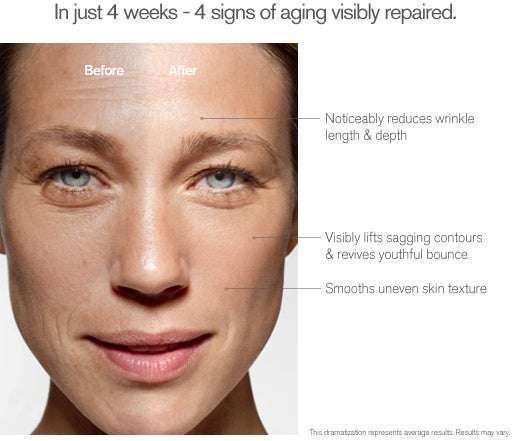 Caroline Forsling is a Swedish model based in New York City who has just hit Estee Lauder with a $2 million lawsuit for using a test shot of her for an advertising campaign that she claims she never agreed to. Forsling is an ex-Sport's Illustrated Swimsuit model who worked with Estee Lauder on a hair care product shoot earlier this year. An image used in the recent ad for the skin care product Plantscription is taken from a test shot from the earlier contract, where Forsling had her hair pulled back and was not wearing any makeup.
The advertisement was used in a large scale campaign through Estee Lauder's Origins line for the anti-aging cream. The advertisements show the original photograph on the left, with a retouched image on the right, as a dramatization of how the product combats four signs of aging.
Forsling claims she never agreed to this campaign and has never used the product in question. But, her biggest complaint comes from the fact that the advertising states that the women who participated in the study were aged 45-60. While she doesn't give her specific age, she claims to be "significantly" younger.
She alleges that even though the company agreed to stop using the photo for advertising, they are still sending it out as part of a casting call for models with "fine wrinkles."
The lawsuit alleges that Forsling's civil rights were violated, the company enriched itself at her expense and damaged her career.
Hearing a model complaining about retouching in an ad campaign may sound like the height of hypocrasy, this does get into an interesting issue of intellectual property and who owns the rights to photos. Was this simply a case where Forsling signed over the rights to all the photos — including test shots — to Estee Lauder, even though she thought it was only for the single hair care campaign? Are test shots covered by her contract? Should they be? Does a model's rights to protect their exposure and good name extend to preventing poor photographs going to print? We would be very interested to see the relevant paperwork and we'll certainly be interested to see how this plays out.
[via DailyNews]