Joby's New iPhone App Makes Stop Motion Easy
The folks behind the Gorillapod have put out a new iPhone app called Frame X Frame, for all your stop motion needs.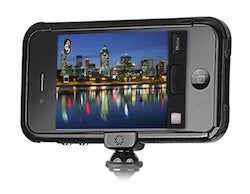 The folks at Joby — the folks behind the wonderfully bendy Gorillapod — have just released a free iPhone app called Frame X Frame, which will take a lot of the tedium out of stop motion photography. Once you have your phone set up in place, you can set it either to take photographs at regular intervals, or whenever you feel like it, and then it will stitch the images together for you into a movie that can be shared across the usual array of social networking channels.
In addition to the controls specific for stop motion shooting, there are also many of the features we've come to expect from iOS photography apps: anti-shake, self-timers, digital levels, tap-to-focus, and digital zooms.
Obviously the idea is to get people interested enough in stop motion to get them to pony up for a GorillaPod, since hand-held stop motion is all-but impossible. But, we like the GorillaPod around here and it's hard to argue against marketing that actually gives you something free and useful.
To mark the release of the app, Joby is holding a competition called "Stop Motion Addict," with a grand prize of a Canon 7D DSLR, a GorillaPod Focus and ballhead.