Two Reuters Photographers Use 110 Pounds of Camera Gear to Shoot the Royal Wedding
With 10 bodies and a few enormous lenses, they're going to need a pretty big bag.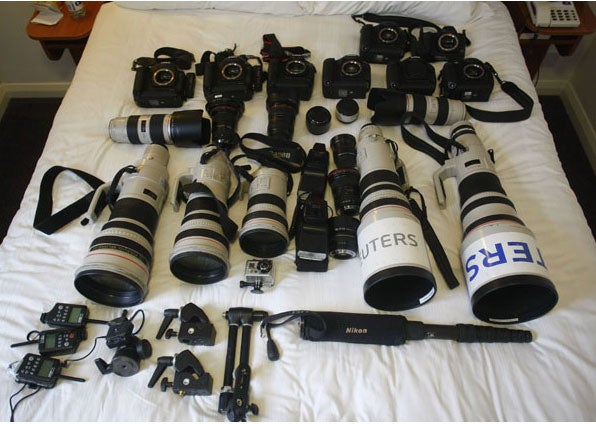 Whether you've been frantically following every detail of the royal wedding or trying desperately to avoid it (I belong firmly in the second camp), you'll still likely be interested to see the kit that Reuters photographers used to capture the affair.
Photographer Phil Noble posted a quick blog about his plans for shooting the ceremony with his fellow Reuters photographer, Kai Pfaffenbach. He talks briefly about scouting the location — something that should sound very familiar to event shooters — and also posted a rather sexy picture of the kit they'll be brining.
In addition to 10 bodies — a mixture of what look to be Canon EOS 1D Mark IVs and a 5D Mark II — and a whole heap of serious lenses. The focal lengths range from a 10mm fisheye all the way up to a 600mm telephoto that could certainly be paired with one of the extenders also pictured. The rest include a couple 70-200mm zooms, as well as 300, 400, and 500mm primes with what looks like a few 16-35mm f/2.8s thrown in for wide shots.
The non-camera gear includes a few umbrella clamps, a couple 580ex II flashes, a handful of remote triggers and a monopod. One of the more curious additions is the GoPro helmet camera that's plopped in the middle of the bed. Interested to see how that get puts to use.
Anyway, you'll have a hard time escaping photos from the wedding of William and Kate. At least now we have a little more info on what into into making them.