Samsung Announces 2011 NX Lens Update
Five new lenses will double up the i-Control line-up this year.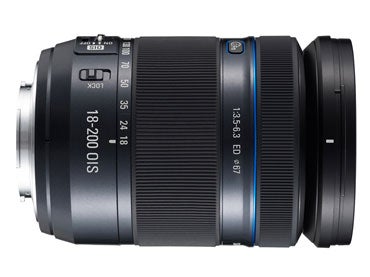 We may earn revenue from the products available on this page and participate in affiliate programs. Learn more ›
If you have an NX100 or one of the new NX11s that debuted back at CES, your about to get a bunch of new lens options. The list includes a nice variety of new glass, but, more importantly, it reaffirms that Samsung is still fully committed to their interchangeable lens compact system. Here's a rundown of the new lenses.
85mm F1.4 ED SSA
One of the most interesting new lenses is by far the most pro-oriented in the bunch. In addition to its f/1.4 maximum aperture, it also has the Super Sonic Actuator, which promises fast, silent AF. It also has full-time manual focus, but lacks Optical Image Stabilizaiton. It won't be available until October, but hopefully that means we'll be able to get some hands-on time with it at PMA this year.
16mm F2.4
As you could probably guess by the lack of alphabet soup in its name, the newest pancake lens is fairly basic, but fast, wide-angle prime. When it ships in July, it won't have IS or an SSA motor, but hopefully its tiny size and relatively tiny price tag will make it a winner.
60mm F2.8 Macro ED OIS SSA
In contrast to its barebones pancake counterpart, this 60mm macro has just about every acronym Samsung has attached to its name. It starts shipping in July with Optical Image Stabilization, an SSA motor and extra-low dispersion glass to help fight distortion. There's no mention of just how macro this 60mm lens really is (How close does it focus? Magnification ratio?), but we'll update you when we find out.
16-80mm F3.5-4.5 OIS
The first of two new zooms will be launching in December with OIS and silent AF. We wouldn't be surprised to see it become a new package option with NX bodies when it launches in December.
18-200mm F3.5-6.3 ED OIS
The last lens on the docket uses Samsung's silet Voice Coil Motor, which can be activated during video capture without ruining the soundtrack. It will also have IS when it launches in May.