New Mount for Ricoh GXR Can Use Leica M Series Lenses
However it will not be available until Fall of 2011.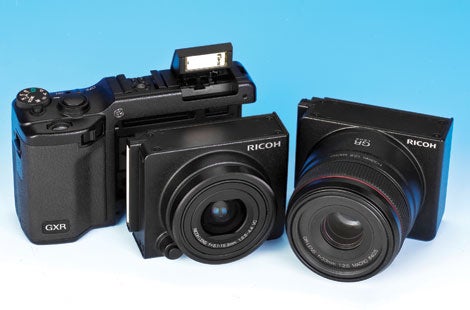 We may earn revenue from the products available on this page and participate in affiliate programs. Learn more ›
The newest unit for the GXR will not feature a lens, like the two units pictured above.
When Ricoh first announced its GXR interchangeable unit camera (see how it did in our Lab Test), a lot of people scratched their heads in confusion. However Ricoh's outside-of-the-box approach to a camera system has proven to be both groundbreaking and versatile (We even gave it a coveted Pop Award back in December).
Now, with the addition of the GXR Lens Mount Unit, announced today, Ricoh is successfully increasing the versatility of its ugly-duckling system quite a bit more.
Like Ricoh's other three units available for the GXR system, the Lens Mount Unit contains both a shutter and a sensor, but unlike the others, it has no lens. Instead, it offers a mount that allows users to attach any Leica M series lens to the body.
The unit offers 12.9MP APS-C CMOS sensor with a newly developed focal plane. While having access to such primo glass in a camera system is a great addition, the smaller sensor means you can't take full advantage of the Leica glass's ability to stay bright and sharp around the edges.
The Lens Mount Unit won't be available until at least Fall 2011, so be sure to check back often for any updates relating to it, and as always, we will let you know as soon as we get a testable model in our hands.