Vivian Maier: America's Unknown (until now) Street Photographer
After 60 years, her work will be given a proper display.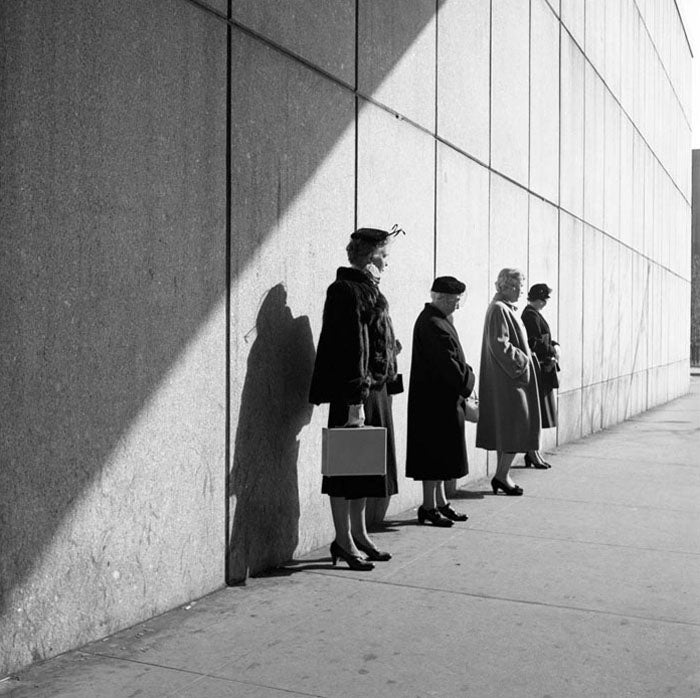 Back in 2007, John Maloof, a Chicago real-estate broker, attended a furniture and antique auction, where he stumbled upon a collection of about 100,000 prints and negatives shot by an unknown photographer—many of them undeveloped. Intrigued, he purchased the collection for a mere $400.
He later found out that the massive archive of images he had acquired were shot by Vivian Maier, arguably one of America's most accomplished yet completely-unknown street photographers—that is, until now.
Upon realizing the extent of his purchase, Maloof became enthralled yet confused by what to do with Vivian's massive body of work—he only knew that he had to somehow get her work out to the public. So he did what any tech-savvy adult would, he launched a blog.
We are thankful that he did, because as he has continued sorting, archiving and posting the images on the blog, the interest in Vivian Maier, her work and her life, has only grown exponentially.
Still, even after some extensive research, all that is really known about Vivian Maier is that she was born in New York City, lived in France with her mother as a child and ultimately moved to Chicago where she spent 40 years working as a nanny. When she was not working, she spent her time roaming the streets of Chicago, or, at time New York City, photographing the scenes that came her way.
She almost always shot with a Rolleiflex twin-lens reflex camera and apparently was a bit standoffish. She died at the age of 83, although, oddly enough, her collection was sold to Maloof while she was still alive—however Maloof did not discover this until she had passed. The auction house had apparently acquired her work from a storage locker as a reimbursement for unpaid bills.
Currently Maloof is only about 1/10 of the way into scanning and archiving all of the images, but what has already emerged is a breathtaking documentation of everyday urban life in the 1960's and 70's.
Just last week, a solo exhibit titled "Finding Vivian Maier: Chicago Street Photographer," opened at the Chicago Cultural Center. In addition a book as well as a documentary film called "Finding Vivian Maier," are both in the works.
You can (and absolutely should) see the extent of what has been archived so far at: VivianMaier.blogspot.com.