Sony Announces DSC-HX100V and DSC-HX9V Super-Zoom Compacts
The latest additions to Sony's Cyber-shot line are long and strong.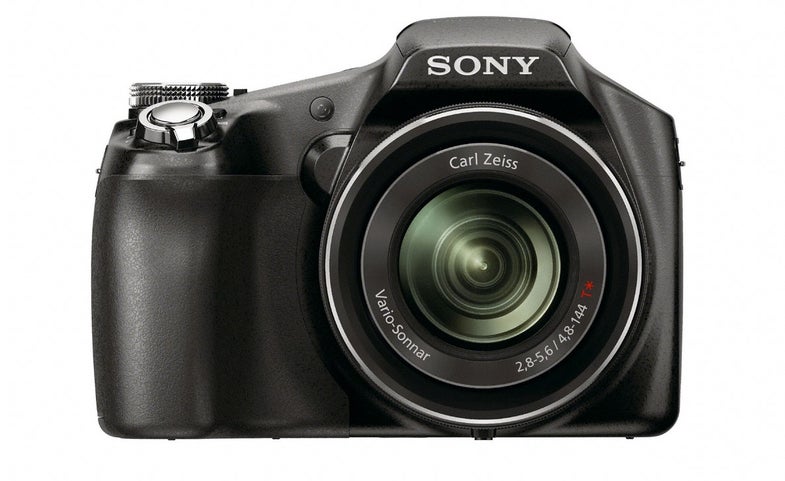 Sony has been trickling out a steady stream of compact cameras ever since CES a few weeks ago. Their newest installment is a pair of 16.2-megapixel superzooms. The HX100V has a 30x (27-810mm 35mm equivalent) Carl Zeiss Vario-Sonar T* lens — a first for Sony — while the HX9V has a slightly-less-swanky 16x (24-384mm 35mm equivalent) Sony G lens.
The press release for the new cams talks a lot about the similarities that exist with Sony's HandyCam video cameras and these two new compacts–and for good reason. Both can capture 1920 x 1080 video at 60p and both employ the "3-way shake cancellation" SteadyShot system found in their video counterparts.
The HX100V and HX9V are both powered by an Exmor R back-illuminated CMOS sensor and use a new high-speed auto focus feature, which Sony claims can lock onto objects in as little as .1 seconds. The DSC-HX100V even has a manual focus ring for those used to a traditional SLR lens.
Sony continues to assert their support for 3D, equipping its new cameras with the 3D Sweep Panorama and 3D Still Image (which takes two photos with shifted focus to created a three-dimensional images). If you don't have a 3DTV to look at the results, Sony has also included its Sweep Multi Angle mode, which takes 15 images from slightly different angles and lets you view a simulated 3D image on the camera's screen (both have a 3-inch, 921,000 dot display), simply by tilting the body.
For those who prefer to eschew 3D all together, there's a revamped Sweep Panorama High Resolution mode, which uses the Sweep motion (as made famous by Taylor Swift in her Sony commercial) to simulate a 42.9 megapixel pano image with a resolution of 10480×4096.
Both new cameras will be available starting in April in black only. The DSC-HX100V will set you back $450, while the DSC-HX9V will check in at $350.