CES: Lowepro CompuDay Photo 250 Preview
A rugged lightweight backpack that won't tie you down.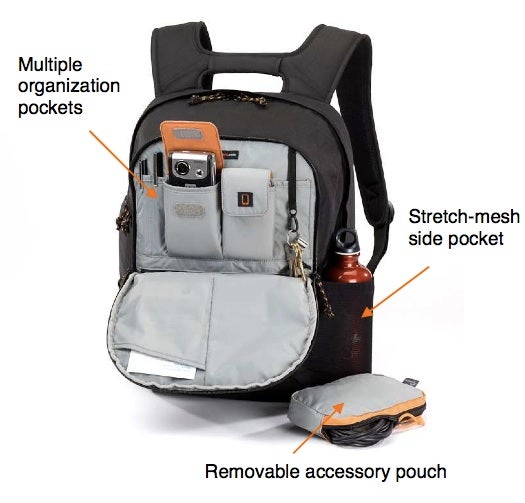 _Las Vegas- _The folks at Lowepro posted an intriguing sneak peak on their blog of the all-new CompuDay Photo 250 backpack due out some time in March.
Perfect for both the city-slicker and mountain-hiker alike (or simply anyway who likes to travel with a decent amount of gear), the CompuDay offers ample room for a laptop (15" or smaller), a DSLR body with lens attached, one or two smaller lenses, accessories like a flash, a cellphone, a harddrive, some snacks and even a few knickknacks.
Weighing in at just under 2lb's, the CompuDay Photo 250 is light enough to not weigh you down, but rugged enough to protect all of your valuables. It is also water-resistant (even more so when the included rain-flap is used). It features padded shoulder straps, and a padded adjustable camera chamber that can be completely collapsed down when not in use. It also has a removable accessory pouch and ample pocket space.
The CompuDay Photo 250 backpack is 12.6″ wide 7.9″ deep and 17.1″ tall. No price has been given for it just yet, but we are told it will be on the affordable side. Be sure to stay tuned for a more in depth look at this bag as we get the opportunity to take it for a test spin. In the mean time, check out Lowepro.com for more information on the CompuDay Photo 250 and other Lowepro backpacks.
From: blog.lowepro.com__.