Software Review: Adobe Photoshop Elements 9
In the latest Elements, the changes are small but useful.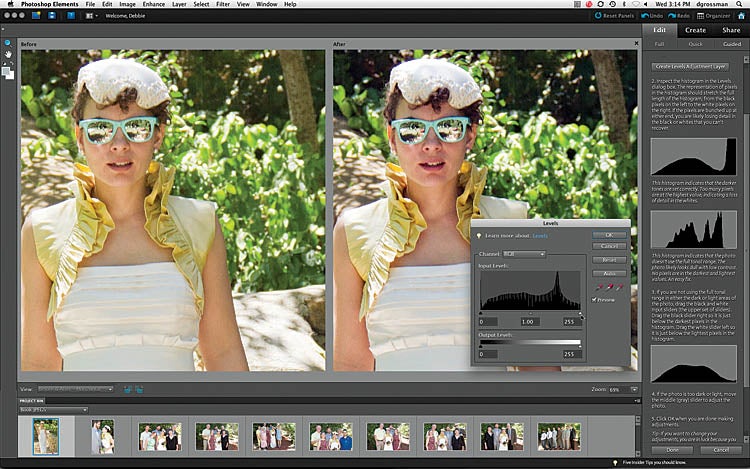 We may earn revenue from the products available on this page and participate in affiliate programs. Learn more ›
One of the best programs available to hobbyists for organizing photos and fairly significant retouching, Adobe Photoshop Elements has always been great at what it's capable of. And now it's capable of more.
The new version, Elements 9 ($100, direct), adds a few useful new editing tools, makes sharing a bit easier, and simplifies retouching for beginners. This upgrade is big news for Apple users, bringing the Mac version in sync with Elements for PC.
Editing and Retouching:
Elements comes in two parts: The Organizer and the Editor. The Organizer is the hub where you import, tag, share, and make projects with your pictures. Editing happens, of course, in the Editor, though there are some quick edits available for JPEGs in the Organizer, as well.
The more exciting upgrades this go-round are in the Editor. We were happily surprised that two of Photoshop's best tools are now available in Elements: the Content-Aware Healing Brush (which recently made its debut in Photoshop CS5) and Masks.
The old Healing Brush was great for removing spots on areas of consistent tone or texture, but would flub near edges. Now, turn Content Aware on while in the tool, and you can remove spots that are near or even covering edges or in multiple textures.
Masks in Elements is a bigger deal yet. Up until now, Masks have only been enabled when using Adjustment Layers. But with this version, you can do really sophisticated retouching and compositing previously possible only in the much more expensive Photoshop.
Elements 9 also contains some new stuff for casual users and those new to image editing. There's the new Guided Edit mode, which hides the toolbar and provides a list of possible tasks, walking you through each of them. When you're finished, you can go back to Full Edit mode to see the layers that were created.
There are also some new cute and fun effects, like those that create a "Lomo" (plastic camera) or pop-art look. But with so many of these available in compact cameras or cellphone apps, we're curious about whether Elements users are actually clamoring for them.
Organizing and Sharing:
Until now, Mac users didn't have the Organizer—instead, the Mac edition of Elements 8 came with Bridge. We suspect that most of Adobe's efforts this round went into achieving parity between the Mac and PC editions, because there aren't too many earth-shaking improvements to the Organizer.
That's fine: We didn't have much to complain about in the last version. You can view your images in a typical grid or see them as thumbnails arranged on a calendar. You can create tags and label your pictures singly or in batches. And you can use People Recognition to find and tag faces of friends and family.
With Elements 8, we complained that, while it was easy enough to share to Adobe's Photoshop.com online service, sharing to Facebook was impossible. That's been fixed with this upgrade, and now it's also easy to share to Flickr or Kodak Gallery.
Having just tried out 10 photo-book services in our November issue, we were looking forward to giving Elements' revamped book-creation process a spin. Unfortunately, it let us down somewhat.
The positive includes the ability to lay out your book and then send it to Kodak Gallery or Shutterfly for printing—you can also print it yourself, along with other creative projects such as collages. It's a definite improvement over Elements 8, since you can choose the layouts you want and add images with ease.
But the process is otherwise a bit frustrating. If you use lots of high-resolution images, switching between pages is fairly slow. You can't move images from one page to another, and if you choose more pictures than the layouts can fit, whatever's left over is unceremoniously excised. For shorter books made from medium-resolution photos, though, it's just fine.
Online Backup:
The Photoshop.com service is becoming an even bigger part of Elements. Sign up for free, and you get 2GB of online storage. To facilitate automatic online backup, toss your photos into an album and check the box for Backup/Sync. Elements will automatically back them up to Photoshop.com behind the scenes, and keep you apprised of its progress in a small pop-up window. If you run Elements on multiple computers, you can use Photoshop.com to sync their photo libraries. Either way, your pictures will be available anywhere online.
And if you share to Photoshop.com via an online album, you'll be able to show what's synced to your family and friends. The viewing interface is well-designed and, if you pernit it, your viewers will be able to download high-res files and either print them at home or order prints via Shutterfly. It's much more elegant, less cluttered, and slightly more private than many photo-sharing sites, and a great choice if lots of people are itching to see your pictures.
If you shoot mostly JPEGs and share a lot of pictures, you should consider an upgraded membership: For $50 per year, you'll get 20GB of online storage. Note, though, that if you shoot a lot of RAW, or want to back up edited TIFF files, you'll likely run out of this expanded space in short order. But lovers of slideshow, collage, and greeting-card graphic themes will enjoy the extra, seasonal content that also comes with the upgrade to Photoshop.com Plus.
Is Elements for You?
Despite the happy addition of some sophisticated editing tools, Elements remains a program best for hobbyists rather than truly committed photographers.
The biggest reason? Its handling of RAW files. Sure, a version of Adobe Camera Raw is included, but ACR's tools are slight compared with those in Lightroom or Photoshop. For instance, there's no syncing settings between shots, no built-in lens correction or retouching tools, and no exporting in batches.
Once you open your file, you're stuck converting down to the sRGB color space (Elements doesn't support others, not even Adobe RGB) if you want to retouch it in the Editor. And while sharing RAW files or adding them to a slideshow is possible, the process takes forever compared with doing this using JPEGs.
So if you have a DSLR and plan to get into shooting RAW, Lightroom or Apple Aperture is probably a better purchase. On the other hand, if you already use one of those programs but are looking for a way to do retouching with layers without breaking the bank, Elements will work as your external editor—that is, as long as you don't mind working in sRGB and 8-bit instead of 16-bit color.
Rival Corel PaintShop Photo Pro X3 has very similar strengths and weaknesses-—its edits are also limited to the sRGB color space, and it also excels at organizing and sharing. Corel has Curves, which Elements lacks, but Elements has the benefit of some more elegant algorithms inherited from Photoshop, making for often comparatively smoother and speedier fixes. PC users who are on the fence may be equally happy with either, but, because Corel is PC-only, Mac users won't have that choice.
Elements doesn't offer an upgrade option, so it will only be worth trading up to this version if you're currently using versions 6 or 7. The transition from 8 to 9 is too subtle to make a repurchase advisable, unless you are a Mac user clamoring for the Organizer. Still, for photographers who don't have a robust image editor yet, and who shoot mostly JPEGs and want a quick way to organize, share, and fix their photos, Elements remains one of the best—and most economical—options out there.
Specification:
MINIMUM SYSTEM REQUIREMENTS: Windows: XP or newer, 1.6GHz processor, 1GB RAM, 3GB HD space. Mac: OS 10.5.8 or newer, multicore Intel processor, 1GB RAM, 3.4GB HD space.
PRICE: $100, direct; www.adobe.com