Trunk Show: LARRY NIGHSWANDER
The Cummer Oak, one of Jacksonville Florida's oldest residents.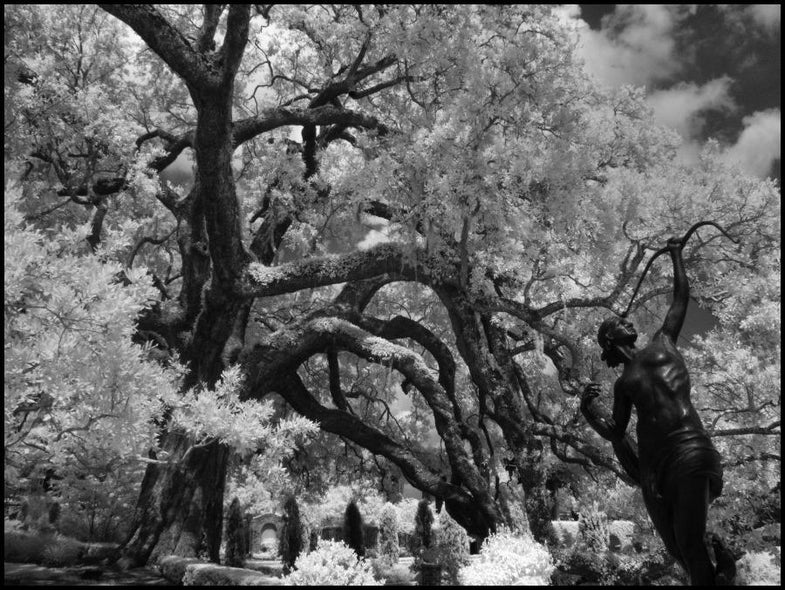 Now director of photography for Bonnier Corporation, Nighswander won the National Press Photographers Association 1993 Magazine Picture Editor of the Year award for his work on staff at National Geographic magazine. His previous photo editing experience included stints at The Cincinnati Post, The Columbus Dispatch, and The Washington Times. Nighswander's photographs have been published in Time, People, Esquire, and Sports Illustrated, among many other magazines.
"Trees can't follow a photographer's directions," says Larry Nighswander. "You can't ask them to turn to the right or left, or move away from a building so you can get a better shot." As a former picture editor for National Geographic, and now director of photography for Bonnier Corporation's many magazines, Nighswander knows all about difficult subjects. And the Cummer Oak (Quercus virginiana), which was already a mature tree in the 1890s when its namesake family settled on the banks of Jacksonville, Florida's St. Johns River, is a special challenge. Some of its lower branches swoop to the ground for support, rising back up again to continue their outward journey—a strategy that has helped extend the tree's spread to nearly 200 feet.
The Cummer Oak's size allows it to shade both the English- and Italian-style gardens on the property, the former created by such distinguished landscape designers as O.C. Simonds, Thomas Meehan & Sons, and the esteemed Olmsted firm, the latter by Ellen Shipman, perhaps the most prominent woman landscape architect of the early 20th century.
Though the museum now occupies the site of the original Cummer home—razed in 1960 because of termite damage, ironic given that the family's wealth came from timber—it has been incorporated into the site with special attention to the oak. Some of its galleries were built on pilings to avoid destruction of the old oak's root system. The tree's branches have been cabled and braced to hold it together, and a lightning rod forestalls a strike that could bring it down. Its loss would be a huge blow to the site.
Nighswander chose to photograph the tree—known informally as a live oak, meaning that its leaves stay green throughout the winter—with a camera specially retrofitted to capture infrared radiation. The technique brings vivid life to its foliage by capturing the invisible wavelengths that organic substances reflect in abundance.
Back To the Main Article
Back to Main Gallery ****