Trunk Show: JUAN A. PONS
Once isolated, a group of ficus trees now shade a seven-lane Puerto Rican highway.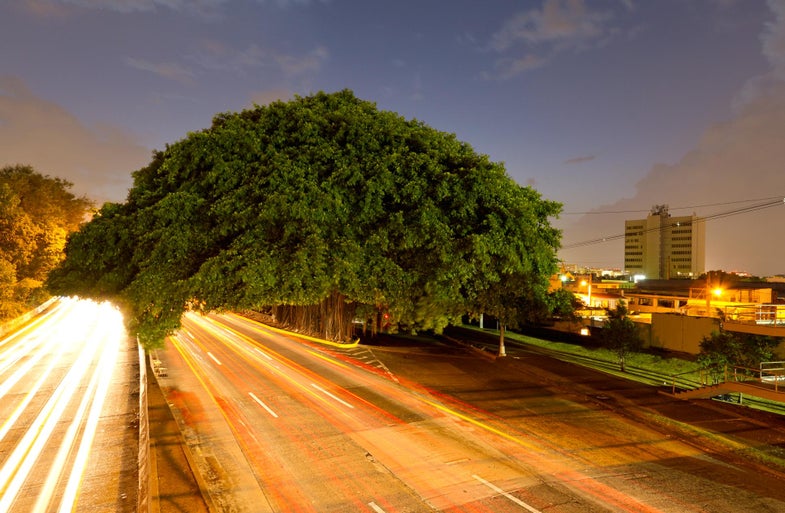 Based in North Carolina, Pons is co-founder of The Digital Photography Experience, an online digital learning center, and leads workshops through his own Wild Nature Tours. His work has been published in Sierra and Audubon magazines.
Late in World War II, the United States undertook a national road-building project to allow faster transport of military personnel. One such road cut through the erstwhile Puerto Rican town of Rio Piedras, skirting a handsome stand of mature Ficus trees (Ficus nekbuda). The canopy formed by three of the remaining trees now arches over several lanes of what has become one of Puerto Rico's busiest highways.
"I was so taken aback by the sheer size of the canopy that I thought I might have to use large banks of lights to selectively illuminate the trees," says Juan Pons, a respected nature photographer who hails from San Juan, which now incorporates Rio Piedras. Instead, Pons shot the trees at dusk with long exposures that both turned speeding cars' taillights into streaks and allowed him to "paint" their foliage with light using repeated bursts from a hand-held flash unit?
Pons's experience with these vulnerable trees, the bark of which is harmlessly stripped and beaten into cloth in their native Africa, went beyond solving photographic problems. "Just about everyone walking by asked me what I was doing, and proceeded to tell me some personal story about the trees," Pons recalls. "I realized that these trees were a cherished part of the community."
Back to Main Gallery ****