Trunk Show: FRANK HUNTER
The boxed pines of North Carolina's Weymouth Heights are living totems of local history.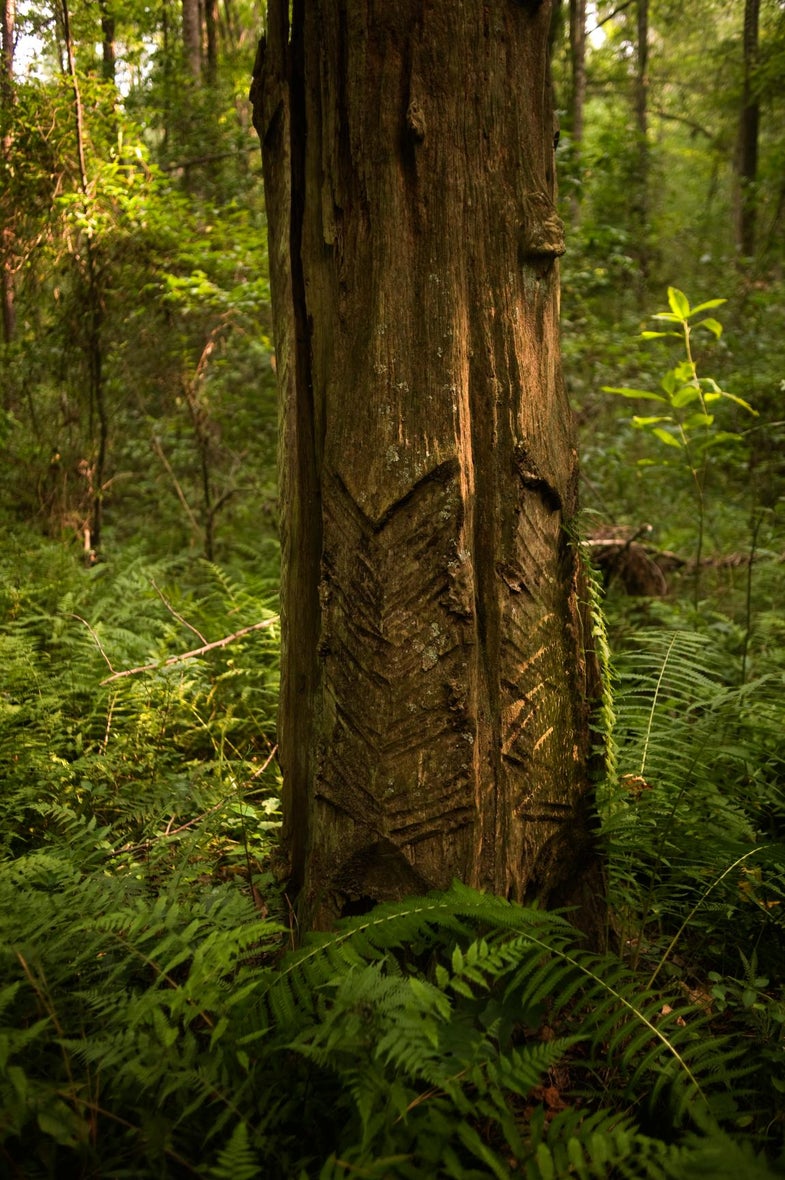 A professor at The Center for Documentary Studies at Duke University, Hunter is recognized as a master of the platinum/palladium process, a revived 19th-century printing technique. His prints are in the collection of the High Museum of Art in Atlanta, and have been exhibited the Fahey/Klein Gallery in Los Angeles.
If they look close enough, visitors to Weymouth Heights, a wooded subdivision in the North Carolina town of Southern Pines, will find strange carvings on many of the long-leaf pines (Pinus palustris) that populate the area. The V-shaped gashes date to the second half of the 19th century, when former slaves made them to drain the trees of their viscous sap. Once accumulated in a hollow "box" carved into the base of a tree's trunk—thus the trees' odd moniker—the sap was collected to make turpentine, rosin, and a sticky pitch for solvent, sealing, and adhesive purposes.
These age-old marks transcend their utilitarian origins, according to Frank Hunter. "One that I photographed reminded me of a human torso," he recalls. "Many of the others were reminiscent of African masks, mummies or faces." Indeed, the remaining stumps and trunks of boxed pines, which the locals once maintained through controlled fires that kept young hardwoods from taking over the land, have a highly totemic quality. Like Weymouth Heights's intact boxed pines, they are not protected by any local ordinances.
The history-laden subject was a natural one for Hunter, particularly in light of his role as a teacher at Duke's Center for Documentary Studies. Yet the photographer challenged himself to shoot in color rather than his usual black-and-white, which he prints so artfully with the platinum/palladium process that he is much in demand as an instructor in the antiquarian technique. And though he brought a bulky view camera along on his trip south, he ended up shooting the trees with a digital SLR. "Often after seeing something of interest, I return at a time of day with better light," says Hunter, who ordinarily captures his subjects on 4×5 sheets of film. "Using the DSLR meant I didn't have to haul my view camera back in 100-degree heat. More important, the way digital lets you explore a subject may be bringing me closer to the way I really see things."
Back To the Main Article
Back to Main Gallery ****