Trunk Show: BARBARA BOSWORTH
With help from cables a crutch, an old oak maintains its vigil over Lake Erie.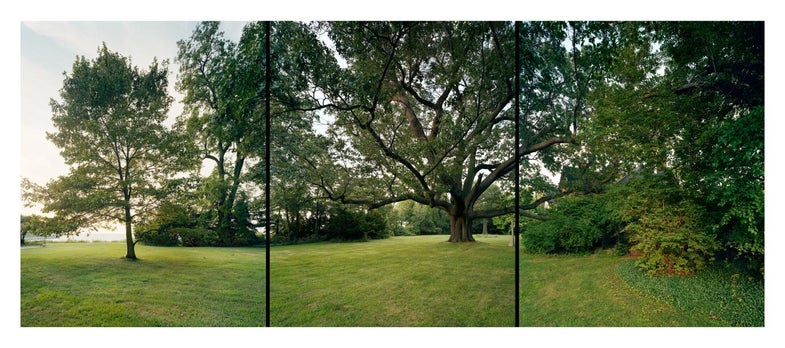 The recipient of a Guggenheim fellowship, photography's most coveted award, Bosworth teaches at the Massachusetts College of Art in Boston. Her prints have been shown at the Princeton Museum and the Addison Gallery of American Art, and she is the author of the 2005 monograph Trees: National Champions (MIT Press).
Barbara Bosworth grew up in Novelty, Ohio, a small town just east of Cleveland and just south of the famous Holden Arboretum. "We would go for walks there as a family when I was young," says the photographer, "and I still take walks there with my sister's family." The specimen Bosworth took on for Every Tree Tells a Story forms a perfect triangle with her hometown and the site of those walks—and sits on a property that originally belonged to the daughter of the Holden's founder.
The massive black oak (Quercus Velutina) at Katewood, as the property is known, overlooked Lake Erie a lifetime before the adjacent house was built. Its limbs stretch outward so widely that in addition to the cabling that can keep an old tree from splitting apart, a crutch support was installed after a tornado passed by in 1992. But the tree's horizontal spread was a perfect foil for the panoramic images Bosworth usually creates.
Bosworth doesn't use a panoramic camera for these images, however. Instead, she shoots with an 8×10-inch view camera, carefully rotating it to construct the image section by section. To capture the Katewood oak to her satisfaction she shot as many as four sheets of 8×10-inch film per panorama. The result of this technique, while surprisingly smooth, isn't seamless—and that's the way the photographer wants it. Thin black lines divide the separate frames, and in her Katewood image, branches don't always align perfectly, as if to echo the way time and the elements have battered the tree.
Back To the Main Article
Back to Main Gallery ****