Fujifilm FinePix Real 3D W3 captures 3D HD video
Fujifilm's original twin-lens-toting, 3D-shooting compact, the Real 3D W1, was ahead of its time. When it was announced, almost no … Continued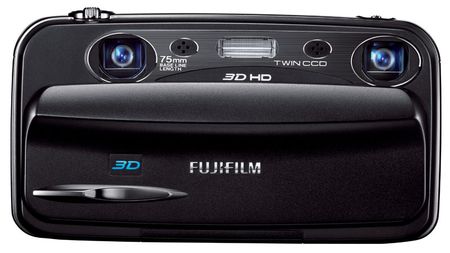 Fujifilm's original twin-lens-toting, 3D-shooting compact, the Real 3D W1, was ahead of its time. When it was announced, almost no one had the means to actually, well, look at the nifty 3D images. Now, like it or not, 3D is the hottest thing happening in consumer electronics. And with an increasing amount of 3D TVs hitting homes, Fujifilm has stepped their game up.
At the core of this new camera you'll find dual 10-megapixel CCD sensors behind a 3x (35mm-105mm) optical zoom lenses. The brains behind the operation come in the form of their new Real Photo Processor 3D HD, which combines images from both sensors into 3D photos and videos.
When it comes to viewing the 3D images, you have a few more options than you did with the W1. The on-camera option has gotten an upgrade in the form of a 3.5-inch autostereoscopic 3D widescreen display. No glasses required for viewing three-dimensional images. If you want to enjoy the images on a bigger scale, the newly-added Mini HDMI port will send 3D images to any 3D-equipped HDTV.
One of the biggest bragging points for Fuji is that it shoots 720p HD 3D video.