Adobe releases updates for Lightroom 3.2 and Camera Raw 6.2
Adobe announced the final release of Lightroom 3.2 and Camera Raw 6.2—the update provides raw support for newly released cameras and corrects bugs found in earlier versions of the program. Plus, Lightroom even gets a few new features. Both programs now provide support for the following new cameras: Canon EOS 60D, Casio EXILIM EX-FH100, Fuji FinePix HS10, Leica S2, Panasonic DMC-FZ100, Panasonic DMC-FZ40 (FZ45), Panasonic DMC-LX5, Pentax 645D, Samsung NX10, Samsung TL500 (EX1), Sony A290, Sony A3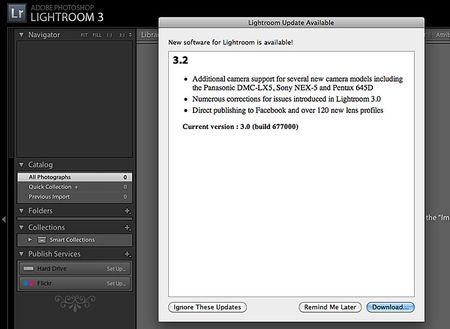 Adobe announced the final release of Lightroom 3.2 and Camera Raw 6.2—the update provides raw support for newly released cameras and corrects bugs found in earlier versions of the program. Plus, Lightroom even gets a few new features.
Both programs now provide support for the following new cameras: Canon EOS 60D, Casio EXILIM EX-FH100, Fuji FinePix HS10, Leica S2, Panasonic DMC-FZ100, Panasonic DMC-FZ40 (FZ45), Panasonic DMC-LX5, Pentax 645D, Samsung NX10, Samsung TL500 (EX1), Sony A290, Sony A390, Sony Alpha NEX-3, Sony Alpha NEX-5, Sony SLT-A33 and Sony SLT-A55V. This Adobe Blog has the full list of newly supported lens profiles.
The update also allows Lightroom users to publish images directly to Facebook or SmugMug, allowing Adobe to catch up to Apple's competing Aperture 3 software, in terms of web integration features.
To apply the update, you can use the in-program update process or grab it from Adobe.com. Feel free to post your thoughts about the new software in the comments.