iPhoneDSLR pairs Canon EF lenses with the iPhone Camera
No word on whether or not attaching a huge lens to the front of the iPhone 4 will improve its reception. (Just kidding, fanboys}LINK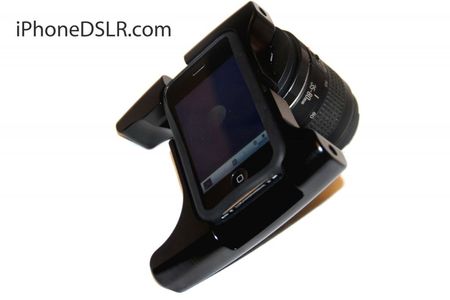 People really seemed determined to push the iPhone's camera to its absolute limits, and it's making for some very interesting projects. The latest comes in form of a creative device that, in theory, lets you mount Canon EF DSLR lenses to your Apple smartphone.
In order to achieve this DIY camera Frankenstein, DIY-er Jeremy Salvador started with a pre-built iPhone camera housing called the Owle Bubo. From there, he added a Canon mount from an extension tube kit.
To date, he hasn't been able to figure out how to get the focusing to gel between iPhone camera and Canon lens, so there are no sample shots to be had. But, he seems to be documenting the process dilligently, which means it's fun to watch him try, even if he doesn't find success.
No word on whether or not attaching a huge lens to the front of the iPhone 4 will improve its reception. (Just kidding, fanboys}