New Gear: Panasonic Lumix DMC-G2, G10
The poorly named G10 (Canon probably isn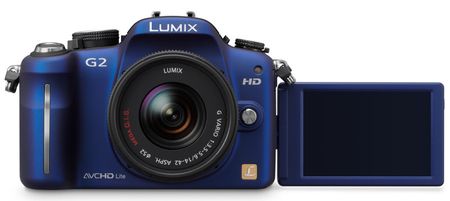 Just a few weeks after the lights were shut off at this year's PMA, Panasonic has introduced two new micro four thirds options. The DMC-G2 is obviously the follow-up to the G1, which we liked quite a bit. Inside you'll find a 12.1-megapixel Live MOS sensor and the ability to shoot 720p HD video, but the real draw is on the back. The 3-inch LCD display is a rotating touch screen, a first for interchangeable lens camera systems.
The poorly named G10 (Canon probably isn't crazy about all of the overlap) keeps the focus on portability, weighing in as the lightest micro four thirds rig around with an electronic viewfinder. Like the G2, it has a 12-megapixel sensor and captures 720p HD video (JPEG, QVGA, VGA and WVGA) and has a new, dedicated Intelligent Auto button for quicly switching modes.
Both will be available with the newly anounced LUMIX G VARIO 14-42mm/F3.5-5.6 ASPH/MEGA O.I.S. lens, which was also announced today. It uses Panasonic's MEGA O.I.S. and has focuses at 30cm, even at full zoom.
Unfortunately, we're left wondering about a release date and, more importantly, about the price which will be an important factor in how well these new cameras will fare in the increasingly crowded compact, interchangeable lense camera game. Tons of pictures after the break.