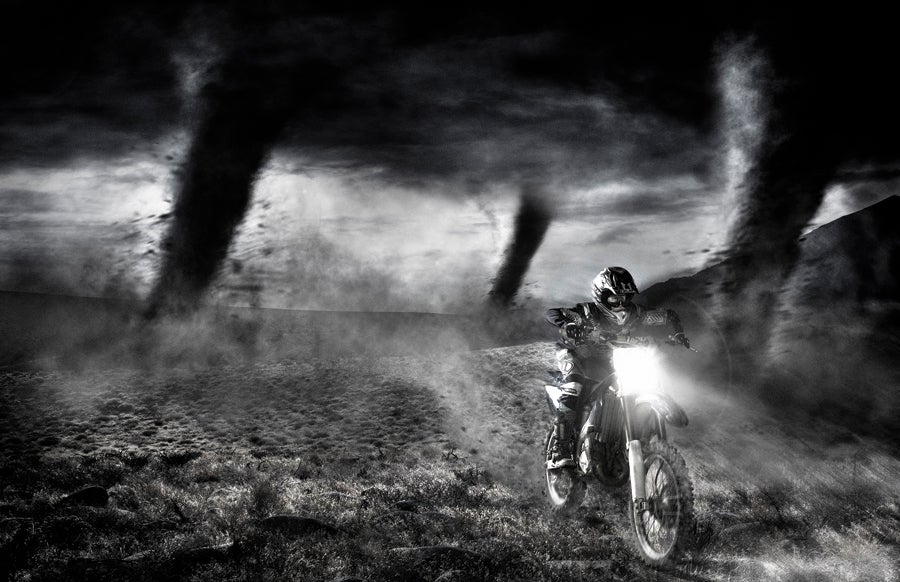 That question arose over and over in response to our 16th Annual Readers' Photo Contest (January 2010), both in letters to the editor and in our forums on PopPhoto.com.
At issue were two of the winners: Timothy Bailey's picture of a motorcyclist chased by tornadoes and Todd McVey's of gulls wheeling around a lighthouse. Both are composite images—several different photos combined into a seamless picture. In an era when technology makes it easy to alter an image, where does photography end and illustration begin? And to what extent must a photograph reflect what the camera sees?
This issue isn't exactly new. From the very beginning of the medium, photographers reinvented reality by staging scenes and combining separate images in the camera. And not just in hoaxes like the double-exposure "spirit photography" prevalent in the 1860s. Documentary photographers sometimes resorted to reenacting meetings at which they weren't present and rearranging objects—and corpses—on the battlefield for a more effective picture, as Civil War photographer Alexander Gardner and his colleagues did (a fact that didn't emerge for more than a century). And the 1860s also enjoyed a fad for double portraits of a single subject in the same scene, often the photographer himself posing as if with an identical twin.
Nearly 150 years later, the idea that photographs can portray an "imagined reality" is nothing if not more accepted. Yet the debate rages on.
In the case of the contested pictures in this magazine, the composites were clearly labeled as such and the photographers' techniques explained. They were shot with traditional cameras and lenses, one in a studio and one on location. One used a model and one captured wildlife. Sure, the "action" was staged, but the lighthouse was genuine (I've been there).
Curiously, this year we heard no complaints that the Grand Prize Winner, a shorescape by Dennis Frates, comprised three images stitched together into a panorama. When we chose a pair of computer-stitched panoramas by Bob Kim for our Grand Prize four years ago, many readers were furious.
Still, we take your suggestions seriously. For the next edition of our annual contest, we'll consider creating a separate category for composites or invented realities. But does a stitched panorama that looks like the original scene count as a composite? Does a staged scene with costumed models in a studio-built set count as an invented reality? We think no—and that's the problem with defining what's a "real" photo and what's a "fake."