PMA 2010: Samsung TL350 does 1080p HD video
Full 1080p mode offers up a standard 30 fps framerate, but things get more interesting from there. It can grab 60 fps at 720p, 240 fps at 608x342, 420 fps at 316x178 and a super-slo-mo 1000 fps at 138x78. Sure, you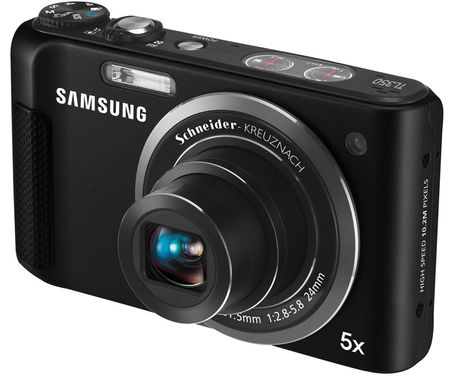 It should be easier to see why Samsung left the HD video capture out of its flagship TL500 compact when you look at the spec sheet for the new TL350. Inside is a 10-megapixel CMOS sensor and the re-engineered DRIMeIII processor, which is capable of grabbing 10 full-res images-per-second. It's the video modes, however, that help it stand out.
Full 1080p mode offers up a standard 30 fps framerate, but things get more interesting from there. It can grab 60 fps at 720p, 240 fps at 608×342, 420 fps at 316×178 and a super-slo-mo 1000 fps at 138×78. Sure, you're giving up a lot of resolution at that point and you're going to need a ton of light to make the video watchable, but it's still a nice feature to have on a camera at a $350 price point. The dual capture mode also allows you to grab full-res still images while shooting HD video.
The rest of the specs include a 5x optical zoom lens and a 3″ AMOLED that lacks the swivel functionality of the TL500. You still get the RAW support and full manual controls, as well as some of more gimmicky shooting modes like Beauty shot and Red Eye Fix. It will be available in spring 2010 for $350.