The Controversy Over Demi Moore's Hips
From: Boing Boing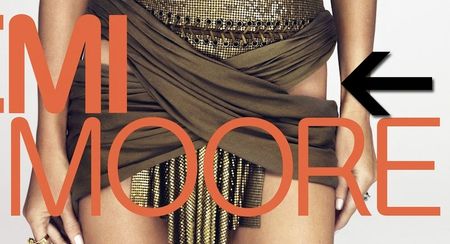 It's no secret that magazine cover photos get retouched, but it's not often you hear about a photographer for calling out a magazine on their clone tool work. Photographer, Anthony Citrano, doesn't like Demi Moore's cover of W magazine. According to his Twitter, he seems to think that the magazine got a little over-zealous in the digital dark room and botched a section of the photo featuring Demi's left hip. Both Moore and the magazine claim that the image is real, with Demi going so far as to post the "unretouched" image on her own Twitter. But, Citrano remains steadfast, saying he'll offer up $5,000 to charity if they can prove that's the way it looked out of the camera.
Demi Moore is no stranger to controversial magazine covers. In 1991 she appeared on Vanity Fair's cover, seven months pregnant and nude. Just one year later, she dropped her clothes again for Vanity Fair, this time covering up with only a layer of body paint applied by Joanne Gair. This latest controversy is just more proof that she has still got it.
We want to hear your thoughts: Shopped or not? Let us know in the comments. Here's a high-res version of the cover on Flickr to help you decide.
From: Boing Boing