Olympus E-620: Camera Test
Here's a DSLR that won't put a strain on your back.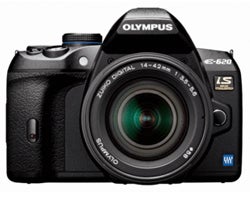 We may earn revenue from the products available on this page and participate in affiliate programs. Learn more ›
More Than Meets The Eye:
So you want a full-sized DSLR, but something in you-such as your vertebrae-is telling you that it's not a good idea.
Olympus feels your pain, as it has for a couple generations of compact DSLRs. The latest, the E-620, has a body that's no bigger than a pack of ramen noodles and weighs just 1.04 pounds.
That's several cubic inches smaller and-most important-nearly a quarterpound lighter than the just-announced Nikon D5000 (see page 76). Doesn't sound like much of a difference? Tell yourself that after a day of playing "I want to be Ansel Adams" at Yosemite National Park.
And like its body, the E-620 is fairly light on the wallet. Body only: $700, street. With a 14-42mm f/3.5-5.6 Zuiko lens, $800. With that lens and a 40-150mm f/4-5.6 Zuiko, $900.
Despite its compact size, the E-620 is loaded. In fact, it's a bit smaller than its Olympus predecessor, the E-520, yet has everything the E-520 did and more: Sensor-shift image stabilization (our tests showed about 2 stops of handholding leeway), 12.3MP in the Four Thirds format (2X lens factor), live view, 4-frames-per-second burst, and a 2.7-inch 230,000-dot LCD on a flipout/ swivel-around mechanism, which is clearly a good idea (just ask Nikon).
Fistful Of Camera:
What's the downside of the small size? Ergonomics, you might say. But no. With a prominent grip on the right front of the body, and a pad for your thumb on the back, the E-620 gives you comfortable control to create any composition. Even big- fingered lumberjacks won't feel like girly men trying to take hold. For a better handhold-especially for portrait shooters-try the add-on vertical grip ($166, estimated street). While that adds to the mass, it nearly doubles your battery power.
From what we can see, the real downside of cramming so much camera into such a small body is noise. Heat builds up around the sensor, and there isn't much that can be done to draw it off with so little real estate. Let's not overstate the case, since much noise can be removed in postprocessing, but it is an issue. In our tests in the Pop Photo Lab, the E-620 had a noise score of 1.7 at ISO 100 for a rating of Low, stepping up to a rating of Moderately Low with a score of 2.1 at ISO 400, and reaching Unacceptable levels at ISO 1600 and 3200 with respective scores of 3.2 and 4.8.
All of these numbers were derived from TIFF files developed from RAW files with Olympus' RAW conversion software's noise reduction set to Standard. Compare that with the new, small, $520 (street) Pentax K2000, which had scores of 1.1 at ISO 100, 1.6 at ISO 400 and didn't reach Unacceptable levels until ISO 3200 using default levels of noise reduction. We'll see how the new Nikon D5000 fares as soon as we get a production unit.
Other image-quality factors are quite good, though. In color accuracy it scores 7.9, an Excellent on our scale, besting the 8.3 from the Pentax K2000 but not the Canon EOS Rebel XSi 's 7.3. Resolution, too, was impressive, with 2120 lines at ISO 100 (the Pentax scored a little better at 2170 and the Canon had 2265 lines).
Ready, set…focus!
The autofocus system is new, with 7 points in a horizontal diamond array. In bright light, the Olympus is fast. At EV 12, the brightest light level in our test, it locked focus in 0.34 sec.
AF took 0.5 sec at the next level down (EV 10), and was still under a second by the dim light of EV 2. In this range, the Pentax K2000 is slightly faster at several points.
But in lower light, the Olympus doesn't slow as much as the Pentax, keeping a focus time of 1.57 sec down to the cavelike conditions of EV -1. Compared with the Canon Rebel XSi and the Nikon D60, though, both the Olympus and Pentax are AF laggards.
Metering? Certainly a strong suit on the E-620. In our field tests, the 49- point multi-pattern metering did a great job of determining the proper exposure for most conditions. And if you have an extremely bright or dark scene, set it to Highlight or Shadow mode, and the camera compensates, bringing out details in the shadows and saving them in the highlights. Impressive.
Like to spotmeter? You'll love the 2% spot in this viewfinder. No other lowpriced DSLR comes close in this regard.
As for the viewfinder overall, it covers 95% of the frame, which is excellent for the class, and the 0.96X magnification keeps you from feeling like you're looking through a tunnel.
Creative License:
You'll imagine you're in a funhouse if you spend any time playing with the camera's "art filters." Lots of DSLRs now have in-camera editing, but Olympus has taken it to a new level, as we first saw with the recent Olympus E-30. Simply pressing a button can turn your image into '60s pop art, give you the grainy realism of classic black-and-white film, or even mimic a pinhole photograph. There are six effects in all.
Don't confuse these with the special effects that are built into almost every digital compact. The Olympus approach is much more sophisticated in technology as well as execution. Best of all, you can preview the effects in live view without any risk of wrecking the original image file.
More fun and creativity can be unleashed with the double-exposure feature. While the more expensive E-30 ($1,250, street, body only) can combine up to four images, the E-620 lets you blend two. Try it, and you'll be hooked. Set it to multiple exposure in the menu, and fire the first shot. Then, while looking at that image in the LCD, compose the second image on top of it. Press the shutter, and the camera does the rest.
If this is starting to sound like a glorified point-and-shoot, banish that thought. One look at the back of the E-620 shows a control-freak-caliber array of buttons. And what you can't press immediately is easy to access on the LCD with Olympus' well-proven five-way control pad. There's one control wheel on top of the body, but we wish there were a second tucked in front of the shutter button for controlling aperture and shutter speed independently in manual shooting. As it is, you have to press the exposure compensation button to switch between these two.
Serious control also extends to flash. The E-620's built-in pop-up controls up to three groups of Olympus accessory flashes through your choice of four channels, so there's little chance of other shooters firing your strobes.
Shrunken Treasure:
In all, this is a very competent little DSLR. Being little is its strength-and if you're sensitive to noise, its weakness. This might be one of the last DSLRs not to include video capture. After all, both the new Canon EOS Rebel T1i-which costs within $100 of the E-620-and the similarly priced Nikon D5000 pack it. But many dedicated still shooters aren't clamoring for it. For those photographers, there's plenty in this small package already.
Competitive Set:
Pentax K2000 $520, street, with 18- 55mm f/3.5-5.6 lens and AF-200FG flash
Given its price, and the fact that it comes with an accessory flash, this Pentax is a strong competitor. In Pop Photo Lab tests, resolution proved comparable, but Pentax took the lead in noise and AF speed in moderate and bright light (except at EV 12, where they essentially tied). The Olympus E-620 rallied back in low-light AF, where it didn't slow as much as the Pentax, and in color accuracy, where it edged into our Excellent rating with an average Delta E of 7.9, compared with the Pentax's 8.3 (an Extremely High rating). If you've never been in live-view mode with a DSLR that has a swiveling, tilting LCD, you won't know how convenient it can be. For us, it's enough to bring this match-up to a tie.
Canon Rebel XSi $690, street, with 18-55mm f/3.5-5.6 IS lens
Again, this Canon carries a more appealing price tag than the E-620. And in our lab tests, it bests the Olympus in most ways. Color accuracy? Both achieved Excellent ratings, but the Canon did so with a score of 7.3, compared to the E-620's 7.9. In resolution, the Canon scored almost 150 more lines than the Olympus. It also proved less noisy than the Olympus across all its ISOs, though the Canon tops out at ISO 1600, which is starting to feel outdated even for entry-level DSLRs. Autofocus? The Rebel XSi was faster at all light levels in our test, though the difference was more pronounced in low light. At EV -1, the Canon focused more than a half second faster than the Olympus. And the Canon focused at EV -2, while the Olympus failed in that super-dimness. Though the E- 620's articulated LCD redeems it against the Pentax, in this case, the Rebel XSi has the edge.