Heroes of Photography: Stanley Greene
Risking everything to cover the disaster of Chechnya.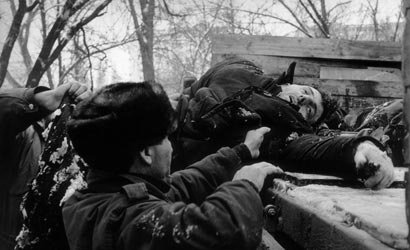 Over the course of his 35-year career, Stanley Greene has transformed himself from a rebellious young man into a compassionate photojournalist. Born in Harlem, New York City, in 1949, Greene was a member of the Black Panthers and active in the antiwar movement of the 1960s. He first took up photography as a means of cataloging material for use in paintings, but in 1971 he befriended the photographer W. Eugene Smith, who offered Greene space in his studio and encouraged him to study photography more formally, first at New York's School of Visual Arts and then at the San Francisco Art Institute.
Greene photographed rock bands, did a newspaper stint at Newsday, then became a fashion photographer in Paris. He reached a turning point in 1989 when he witnessed the fall of the Berlin Wall. His image of a tutu-clad girl on the wall with a champagne bottle was flashed around the world as a symbol of the event. Greene called the photo "a fashion image," but it helped lead him into a photojournalism career.
Although he has photographed such varied troubled spots as Iraq, Somalia, Croatia, Lebanon, and the post-Katrina U.S. Gulf Coast, Greene is best known for his work in Chechnya, where he has spent more than a decade documenting the conflict between rebels and the Russian armed forces. This work is collected in the 2004 book Open Wound (Trolley Press, $60). Greene's relentless depictions of the rebels' plight and his willingness to take sides with them against the Russian government have led him to operate in a clandestine fashion with the help of an underground community. A lauded photographer whose work is distributed by the Vu agency in Paris, Greene has been a friend and inspiration to longtime Newsweek photographer Lester Sloan, who pays tribute here to one of his photographic heroes.
Stanley Greene Gallery****Heroes of Photography Main Article – Gallery The Other Photographers Brent Stirton – Gallery Chris Hondros – Gallery Fazal Sheikh – Gallery Hazel Thompson – Gallery John Dugdale – Gallery Joseph Rodriguez – Gallery Phil Borges – Gallery Timothy Fadek – Gallery Yunghi Kim – Gallery
There's a time before sunrise, when yesterday is about to relinquish its grip on tomorrow, when things seem most clear. Such was the time when Hamlet's father's ghost rushed about to find someone with whom to share his secrets. There are artists who populate this gray world, whose work penetrates the primordial stillness, unwrapping truths with a clear message about our tomorrows. They work in many mediums, speak in different tongues, but among each other need no translation. We listen, because their efforts strike us silent with fear. Call them what we will, conduits, spirit dancers, monks; they hold us hostage to our follies and half-truths. Such an artist is Stanley Greene.
Greene wasn't always a self-proclaimed monk. He came reluctantly to his calling. In defiance of his parents, he wasted a good part of his youth pursuing all the hollow promises that drugs and the street life offered. "I was that kid my parents told me to stay away from," he says.
He comes from a middle-class background in New York City, having grown up in a household where the spoken word, in both the theater and literature, was as much a part of what nurtured him as the food on his table. Both his parents were actors. His father — a union organizer and one of the first blacks to serve as an officer in the Screen Actors Guild — taught him that one neither sacrificed nor abandoned one's principles when challenged. That admonition has served as an anchor.
It wasn't until the 1970s, when he assisted W. Eugene Smith, the man he claims discovered him, that Greene found himself on solid ground. After entering the San Francisco Art Institute — where he earned a BFA and an MFA and, as he calls it, "turned it all around" — he embraced his calling. But it was not to be an easy ride. Many of his instructors encouraged him to use his talents to explore the black world they perceived as "his place." But Greene's universe extended beyond the boundaries of anyone's ghetto. At the other end were those black photographers who talked as if a "black vision" somehow excluded its European origins. Stanley simply asked to be accepted as an individual, free from categories. For him, photography is about many things: memory, history, psychology, rhythm, music, and dance. It is neither bound by color nor limited by geography. Greene feels he is a part of all those who came before him and a precursor of those to follow.
Greene spent little time photographing deli openings and ribbon-cutting ceremonies, where one editor predicted he would end up. After a brief flirtation with fashion photography, he moved on to more serious projects. The boy that his parents warned him against has grown into the man that his father hoped he would become. For Greene, it's all about the work and living up to the responsibility that comes with his talent. His name is associated with many of the events and iconic moments of the last decades: the fall of the Berlin Wall, Croatia, Chechnya, Katrina. With a garland of honors around his neck, he has little time for celebration. "You have to be a monk to do this work," he says. But he would be the first to tell you that he's no saint.
Photographer and writer Lester Sloan lives in Los Angeles.