Heroes of Photography: John Dugdale
A Vision Clarified by the Photographic Pursuit of Beauty.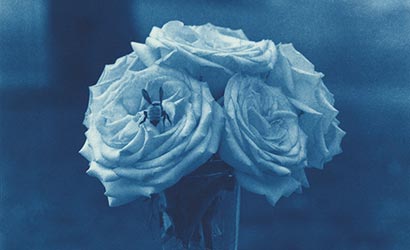 Despite his progressive loss of sight, John Dugdale has become a highly respected fine-art photographer. Here, American Photo's Russell Hart salutes the spirit behind Dugdale's remarkable inner vision.
Shortly before John Dugdale suffered the stroke that left him partly paralyzed and nearly blind, I visited the photographer in his Greenwich Village studio. The year was 1992, and he was shooting still lifes of elegantly plated food for the New York Times Magazine. I remember Dugdale, tall and handsome when he stood up, crouched at the viewfinder of his medium-format SLR, holding a low-tech diffusion device in front of the lens and chatting nonstop. As he looked through the camera he would move the device in increments until only a small area of the subject was sharp, then keep it still and take the picture. The process depended entirely on observation and visual acuity.
Dugdale's commercial career, in which clients such as Ralph Lauren and Martha Stewart sought his services as a tabletop artist, would soon come to a premature end. "After I lost my sight, I couldn't go back to the $35,000-a-week shoe catalog stuff," he says. "You can't trip over the tripod and ask other people to focus for you." Yet to hear him talk, some 15 years later, you would think Dugdale's tragedy — seemingly the worst thing that could happen to a photographer — was a great gift. It sent him headlong into a world of self expression, one that was at best peripheral before he lost his sight. ("My inner voice was saying, you didn't do what you meant to do," he remembers.) After he learned to walk again and new antiviral drugs tamed his bouts of HIV-related illness, Dugdale went on to make still life and portrait photographs that have an aching, delicate beauty. His prints now command much respect, and prices to match, in fine-art precincts.
John Dugdale Gallery****Heroes of Photography Main Article – Gallery The Other Photographers Brent Stirton – Gallery Chris Hondros – Gallery Fazal Sheikh – Gallery Hazel Thompson – Gallery Joseph Rodriguez – Gallery Phil Borges – Gallery Stanley Greene – Gallery Timothy Fadek – Gallery Yunghi Kim – Gallery
How can a sightless person make photographs? Dugdale is not totally blind. After his vision initially deteriorated to the point that he could see things through what he describes as a narrow crescent in just one eye, it stabilized for a decade. Though the crescent has lately begun to shrink — his malady, CMV retinitis, is progressive and unpredictable — he has been able to "see" a finished print using a magnifying glass. "I'd scan the print back and forth, sort of like a computer scanner, then put it together in my mind." But what about shooting?
Dugdale now works exclusively in large format, a requirement of the antiquarian processes he favors, and he uses the big camera's ground glass as a visualizing aid. "It's sort of like Braille photography," he says. "First I tell my assistant how I want the picture to look in very geometric language, like make it two-thirds sky and one-third foreground, or I'd like this element off to the left a little. Then I put my palms on either side of the ground glass, against the raised edge, and place my fingers where I want things to go. The truth is, after a dozen years of commercial still life, I could do these pictures with my eyes closed. I already knew how to make glass glow and not look corny, or how to make something look better just by turning it an eighth of an inch."
Nonetheless, Dugdale believes that his painstaking method has helped his style. "I was upset at first that I could no longer move around with the camera and get the angle I wanted," he says. "But working this way gives the composition a kind of formality and quietness — nothing tricky or wild about it. It turned out to reflect my personality really well."
In fact, it played right into Dugdale's abiding love for all things 19th-century. "I grew up wishing there weren't cars or electric lights," says the photographer. "Cement seemed wrong to me." Rather than join his neighborhood peers for after-dinner romps, Dugdale would retire to a secret alcove in his mother's house and study books about 19th-century furniture and decorative arts, which he now collects to use in his photographs. "I wanted to be an auctioneer," he recalls, "so I had to know the difference between a Chippendale chair and an Adams-style chair, or to be able to date a house by its mantelpiece."
The first 19th-century photo process Dugdale tried was cyanotype, because in chemical terms it was the easiest to do. It also happens to yield a strong blue monochrome image, the look of which has since become the photographer's stock-in-trade. There was a problem, however. "My idea of the past was not blue, it was sepia," he says, though he has since printed in albumen and platinum. "But the blue seems to affect people in a very internal, deep-memory way."
It was more than color that moved them, of course. The content of Dugdale's photographs seems to yearn for the past, recent and personal, distant and historical. Yet the pictures aren't simply about what Dugdale can't have. "If they were just sad or about loss, I don't think people would react to them the way they do," he says. "In fact, photography lets me maintain who I am in my mind and in the world at large.
"The little bit of sight I have now might last for another year, or it might last for another five. But most of the time I have a big smile on my face, because I'm experiencing newly elevated levels of clarity." John Dugdale may have lost his sight, but he hasn't lost his vision.