The Beach
Guest Columnist of the Month: Mark Lent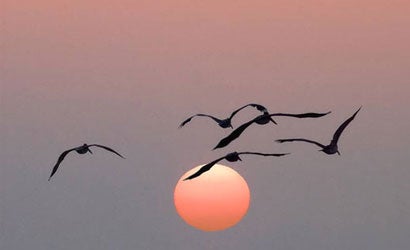 I have a real affinity for the beach. I make the four-hour drive to Gulf Shores, Alabama pretty regularly, and one of my favorite things to do is to simply sit down in the sand and close my eyes. It awakens my senses-I can hear the waves pound the beach, the seagulls chirping and the faint laughter of children playing off in the distance. I can smell the pungent, salty air wafting through my nose and feel the gentle southern breeze meeting my face. It's an extraordinary experience for me. My wife learned early in our relationship that I was meant to live on the beach. She is more of a mountain person, yet embraced my dream of owning a home on the beach, so a few years ago, we purchased my little slice of heaven, a condominium in Gulf Shores. My wife Kristi is an amazing woman, and I thank God for her daily.
When I'm at the beach, my whole disposition changes, and I think that this is reflected in my photography. I love shooting costal scenes and look forward to time on the gulf to go out in the early morning or late afternoon and find interesting "things" to shoot. I never set out with an agenda, or specific place-I just wander. Sometimes, I'm lucky, sometimes not. But like the old saying goes, a bad day of shooting on the beach is better than a good day anywhere else. One of the items that struck me most about the beach is that there's life everywhere, and I find all of it amazing.
I became keenly aware of shooting on the beach after Hurricane Ivan made a direct hit on Gulf Shores. 175 mph winds-so strong that a six-inch chunk of wood embedded four inches into the vinyl siding of my home there. Even more remarkable is that a 50 pound sheet of wire-reinforced glass flew over two other buildings and hit one of my bedroom windows-a full 150 yards from where it was originally located. To say that the force of a Hurricane is brutal is an understatement. 50-foot dunes that followed the costal water disappeared in a matter of hours. Large boats were found 5-10 miles from their moorings and cars were blown a full mile from where they were last parked, and all were "sandblasted" to a shiny metal base.
I was able to get into Gulf Shores 10 days after the storm passed. As a photojournalist, I had a real desire to document what I was seeing and shot hundreds of images in and around my property. I was nervous about straying too far from my home simply because the National Guard was patrolling the streets with loaded M-16's with patrol helicopters flying 200 feet above the ground, and I didn't have press credentials. I can only imagine an active war zone looking similar to the total destruction that was all around me. Dune's drifted up to 20 feet on the roadways and large earth-movers were scooping up truckload after truckload of sand. The carpet in my unit was ruined and mildew started setting in to the walls almost immediately, so for the next five months-without water and power, I went down weekly and camped out in my unit, fixing all of the problems and laying 1000 square feet of tile.
When I was able to get out and move up and down the cost line, I noticed that there were areas that I was able to explore and photograph that were unavailable to me earlier. Some of the cost line revealed itself and has in some instances gone from plain to spectacular. Reclaiming the land has given the area an opportunity to redesign, so to speak, and allow the natural life that thrives in the area to be given greater accommodations. The up side of this is that, between the varied wildlife refuges and the work being done on the costal areas, I see many more photographers than I did a few short years ago. Currently, there are over 80 marked habitat areas for costal birds in the Baldwin County and Mobile County areas, allowing photographers to make images ranging from bald eagles to the common finch. Additionally, Baldwin County and Mobile County have six different wildlife preserves.
Bon Secour National Wildlife Reserve in Gulf Shores is also a hidden gold mine for image making. Either walking on the miles of paths and seeing deer, alligators and plant habitat or signing up to work as an assistant during sea turtle hatchings (something that I would like to eventually do), the diversity of this reserve is difficult to match anywhere else. And of course, there's nothing wrong with simply sitting on the beach for a sunrise either. Lighting, either very early in the morning or in the late afternoon "golden hour" can be breathtaking, so if you're in the neighborhood anyway, make an extra effort with your images and chances are you won't be disappointed.
I hope to see you there.
Comment on this
More Mark Lent:
Beta Testing
Story of Jack Williams