Slideluck Potshow
A nationwide series of events for sharing food and photography.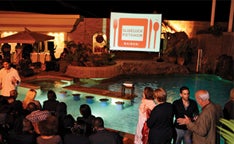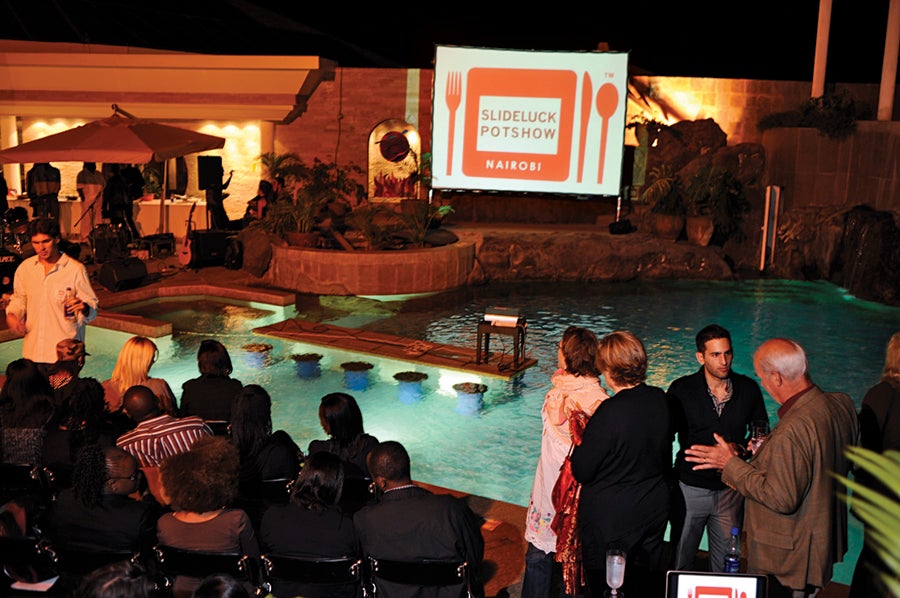 Photos flash by to the beat of an ever-changing soundtrack. The visual mix is an energetic group of amateur and pro shots, and it's a hit with photolovers worldwide.
The latest online photo experience? Nope, the opposite. The photos are wall-sized projections, and the viewers are the hundreds of people who step away from their computers and come together to gorge on lots of photos and some good old-fashioned homemade grub, too. This is the world of Slideluck Potshow (SLPS), where talented amateurs can show their work to a big audience alongside the masters of the photographic universe.
How popular is SLPS? Amid a cool November drizzle last fall, about 800 people trekked to the far west side of Manhattan, casserole dishes in hand, to look at pictures, socialize, and eat each other's home-cooked meals.
Later, about 200 souls in Santa Fe braved frigid December weather and slippery sidewalks to do the same. There have also been shows from Austin, TX, to Washington, DC, to Rochester, NY, to New Orleans. And overseas, too, in Madrid, Rome, São Paulo—even in Nairobi, Kenya, last January.
This spring saw SLPS events in Boulder, CO, and Los Angeles. On May 15, it was scheduled for Brooklyn's DUMBO neighborhood as part of the 2010 New York Photo Festival. (For a list of upcoming shows, see the sidebar on this page.)
Indeed, in the decade since photographer Casey Kelbaugh, now 36, threw his first slideshow/ potluck dinner in his Seattle backyard, the phenomenon has grown to encompass more than 100 events in 45 cities worldwide, with as many as 1,200 people attending the biggest show (at New York's Sandbox Studio in 2007—where another 300 were turned away at the door).
Operating as a nonprofit organization (technically a sponsored project of a national arts service organization called Fractured Atlas), Slideluck Potshow, with Kelbaugh at the helm and fewer than 10 volunteer staffers, is "devoted to building and strengthening community around food and art," according to its website, www.slideluckpotshow.com.
Most of all, its shows are a hot ticket. In November, some 750 New Yorkers lined up, velvet-rope style, to pay the $10 admission and walk up to a fourth-floor loft. Admittance was sporadically cut off to ease overcrowding, but the joint was still packed. The line for the potluck food snaked through host Aperture Foundation's big space, moving glacially.
Lively interactions thrived in a shadowy side room where people posed provocatively for a cajoling photographer in the "Irving Penn Photo Booth." The high-energy sessions proceeded all evening, thanks to sponsors such as Bron Imaging and Scheimpflug Digital. Squeals of delight, and of punctured dignity, greeted the b&w inkjet photo cards—400 in all.
In the main room, the best seats had been staked out early. Jammed in cheek-by-jowl under the glowing screen, the audience balanced stacked paper plates of food while staying raptly focused on the big photo projections.
Sighs, catcalls, applause and cheers erupted for the slide shows (actually, digital projections, most about 3 minutes long and all set to music), with titles like "Safe/Sexy" and "Fast Food." These unspooled for more than an hour. The pro work came from Chuck Close, Vincent Laforet, David Maisel, and other major photographers.
Serious shooters, but fun is a big part of the buzz. The first event's title was, instructively, Party with Art, back in 2000. And in the bigger cities worldwide SLPS is a high-energy hipster party, but also part en masse portfolio review and old-fashioned potluck dinner.
It's not just for fun, however. SLPS is "a nontraditional way to share work—outside of the gallery and print media realms—with an international audience," explains Kelbaugh, now a pro photographer based in New York. "That's something new."
Getting Noticed
The twist: an open-door policy for both amateurs and pros. Where else can amateurs show their work alongside the heavy hitters? This can be a heady experience. SLPS has moved many nascent photographers deeper into the medium and helped some start wriggling free of amateur status. One contributor says he never once showed work publicly in his 35 years of shooting until SLPS came to town. Dave Reichert debuted at SLPS in December 2009, in his hometown of Santa Fe. Recently laid off from an architectural design firm, Reichert, 54, decided it was finally time to advance his long-held photography dream. SLPS was an important first step.
What moved Reichert to go public now? SLPS might be a short cut to recognition. "I hope it will add to my credibility," he says. "My credentials are that I shoot. I don't have an MFA, just a few photo courses from 30 years ago." Perhaps it will "bring some traffic to my website and opportunities for gallery representation."
Back east, New York banker Yasmina Belkacem's fast-track progress is tied directly to SLPS. She was an ambitious point-and-shooter frustrated by the limits of her camera and knowledge when she went to a 2006 Slideluck event. Motivated by what she saw, Belkacem, now 32, used some of her first banker's bonus for a DSLR in early 2007 and then took an introductory photo class.
She presented her SLPS show, "Solo Travels," at friend Kelbaugh's urging—and with his editing help—last summer. The experience was so inspiring, she's now taking advanced courses and has even won four International Aperture Awards (Silver and Bronze). Belkacem hopes to advance enough to consider a change of career, leaving international banking—and those annual bonus checks—for photojournalism.
New Mexico-based fine-art photographer Marilyn Maxwell, 60, presented powerful images of daily life in Guatemala at the Santa Fe event, and the response brought a "significant boost in confidence," she says. SLPS will be the one of the first items on her new gallery-focused resume. She's since made another trip to Guatemala and was moving on to shoot in Cuba at press time.
Why let utter newbies present along with more seasoned amateurs and the greats? Simple: Because there's tremendous nonprofessional talent out there.
"I think back to when I was starting out—a lot of my friends who were really creative ended up as bankers or lawyers," Kelbaugh laments, without apparent irony. "They do photography as a hobby. Here's a chance to bring them into the fold, and that's really exciting."
The newcomers add something fresh, a sometimes unschooled but invigorating dimension, he notes with pride. "Whatever the photography scene, people are used to knowing everyone in the room," but seeing the work of unknowns "creates a different kind of buzz and energy."
Bringing People Together
The diverse mix is important, even for major pros. "It's rare to get a fashion photographer and war photographer in same room. They run in completely different worlds and have different values," Kelbaugh says. "But when you put their work alongside one another onscreen you see the shared crosspollination and the same creative impulse that moves all of us."
It's part of the "community building" aspect of SLPS that he mentions frequently. But what does that actually mean?
As he fusses over lunch in his Lower East Side floor-through apartment (home to Kelbaugh and two roommates, it's also SLPS's office, filled weekdays with volunteers), it becomes clear that while he's a working photographer in one of the world's toughest cities, he hasn't lost his idealism.
"Building community means bringing people together in a way that is both positive and supportive, and for something other than commercial gain," Kelbaugh says. "In the professional photo community you do either fine art, advertising, or magazines—the hierarchies are so steep and there's so little room for opportunity, people get a little hardened."
His mission is to round off the hard edges of that creative world and "bring people together around art and photography for the sake of its beauty, or power to inspire or move, or call to action," he adds.
Kelbaugh puts his money where his mouth is. In nearly 10 years of exponential growth since the first event, SLPS "has done nothing but lose a good bit of money." He's even had to jump subway turnstiles to get home from the airport after events, he says. (He emphasizes the crucial role of Alys Kenny, 30, SLPS co-director from 2004–09, who founded the nonprofit and improved production values, among other things.)
Those 750 or so $10 admissions in New York last fall were an anomaly—there'd never been a straight admission fee before. "Your raspberry couscous and your bottle of Pinot Grigio, that was your admission," he says. In Santa Fe, the $5 "Suggested Donation" jar was having a quiet night. Future events will likely carry $15 submission and $5 to $10 admission fees. And SLPS is seeking major sponsorship.
In the meantime, Kelbaugh spends at least 70 percent of his time on SLPS, and turns down paying photo jobs several times a year because of it.
But running a decade-old and increasingly visible event frequented by art directors and photo editors must bring highprofile assignments? Not so, he insists. "There's no direct correlation between running SLPS and my getting photo jobs. I may get interviews, I get to know people, but I've never gotten a job from running Slideluck."
It's a labor of love: He's bringing photography to life, straight to the people, mixing it all up. "You can look at photographs in a gallery or online, but experiencing it with a roomful of people, and building a narrative with its own peaks and valleys, is so much more satisfying," he says. "It gives photography almost a performance element. It's the collective experience of seeing photos together."
Adds Kelbaugh, "Someone in New Orleans just said Slideluck felt like a primal thing that goes back to cave drawings—sitting around a fire together, looking at pictures on the wall."
Show Your Slides
Want to be included in an upcoming Slideluck Potshow? You don't have to be a pro, but you'll have much more competition for SLPS shows in major media centers such as New York and Chicago, which tend to include proportionately less work by amateurs than shows in other cities.
Recent shows have taken place in Madrid, Milan, New Orleans, Portland, São Paolo, Seattle, Stockholm, and so on. While the curators tend to favor local photographers, Casey Kelbaugh encourages you to submit even if you're not near a scheduled show. "It's a fun thing to travel to," he says.
While some photographers submit slickly produced shows, most do not. All you need is a strong selection of JPEG images (in the RGB color space) and a music track. You will need to upload to the SLPS server. Competition is tough. Here's how to improve your chances:
– Follow the submission guidelines. Does the event have a theme? If so, stay loosely within the overall concept. Either way, your work should have its own central theme—collections of unrelated images don't fly.
– Edit ruthlessly. "Editing is key," Kelbaugh says. "Tightly edited work that's cohesive" is the way to go.
– Don't worry about subject matter. It's wide open. "It can be anything—the backs of people's knees, even—as long as it is compelling, has some intention, and is thoughtful," he says. "We want to see your vision, clearly. Look at the site and see what's been successful."
– Choose upbeat music. Avoid slow or ambient sounds: "Upbeat music draws more attention to your work," explains Kelbaugh. Then prepare your potluck dish! Get precise submission guidelines at www.slideluckpotshow.com.