RIP: Weekly World News
In the face of weaker circulation number, the paper will publish its last issue on August 27. As the Washington Post reported, "somewhere in Kalamazoo, Elvis weeps." And we do too. —Kathleen DavisAssistant Editor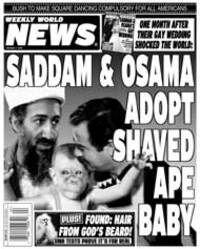 Ok, so it wasn't exactly a beacon of journalistic integrity, but was consistently good for a laugh._ Weekly World News (WWN)_ was launched in 1979 by the same people who brought us The National Enquirer and entertained supermarket shoppers for most of the 80's with improbable stories and hilarious headlines.
What held the over-the-top articles together and kept readers coming back, was the images. As ridiculous as they were, it was one of the first times audiences had a taste of what a little creative image editing could do, and like a car accident, we just couldn't take our eyes off of the now nearly iconic images of Bat Boy.
Blame the popularity of image editing in real news stories, the shift to celebrity gossip as the subject of choice for most supermarket tabloids, or even the different brand of satirical news by publications like The Onion, but WWN's popularity has declined.
In the face of weaker circulation number, the paper will publish its last issue on August 27. As the Washington Post reported, "somewhere in Kalamazoo, Elvis weeps." And we do too.
—Kathleen Davis
Assistant Editor