Photo Business In A Box
This new printer is billed as turning out 5x7s in about 28 seconds; a 4x6 in under 9 seconds. The latest in a very special breed of pro-caliber printers, this Mitsubishi forgoes inkjet printing for dye-sublimation, in which thermal heads transfer color from heat-sensitive ribbons to photo paper. It sounds exotic, but dye-sub is a proven technology that's long been used in photo kiosks. In fact, this printer will be seeing a lot of use in kiosks. Announced this past spring, this printer should be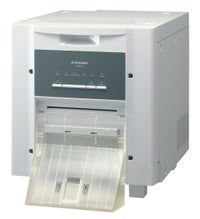 As the dad of an 11-year-old, I spend a lot of time at softball tournaments, swim meets, and ceremonies commemorating academic achievement. How often is there a pro photographer working the event, selling the proud parents a shiny, colorful 5×7 of their offspring in full achievement? Never.
And that's surprising, especially now that the tools for turning virtually any gathering into a money-making photo op are so widely available. Consider, for instance, the Mitsubishi CP-9800DW.
This new printer is billed as turning out 5x7s in about 28 seconds; a 4×6 in under 9 seconds. The latest in a very special breed of pro-caliber printers, this Mitsubishi forgoes inkjet printing for dye-sublimation, in which thermal heads transfer color from heat-sensitive ribbons to photo paper. It sounds exotic, but dye-sub is a proven technology that's long been used in photo kiosks. In fact, this printer will be seeing a lot of use in kiosks. Announced this past spring, this printer should be available soon; the price has yet to be determined.
Imagine it as an event-photography tool. Cart this 37-pound unit along with your laptop computer and usual photo gear. Photograph the kids; pop the memory card into the card reader on your laptop; download the images; and then run them through the Mitsubishi for printing.
Figure you're spending well under a buck apiece for media and the cardboard frame that makes the photo a memento. How much do you think Mom and Dad will pay for each picture? $9 Maybe $10? Times how many kids at a softball tournament?
Hmmm, sounds like a business to me.
_ —John Owens
Editor in Chief_