Hands On: Olympus Stylus 720 SW
See more of Neal's Olympus underwater shots after the jump.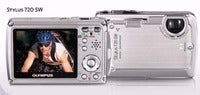 Contributing editor Neal Matthews took Olympus' underwater compact, the Stylus 720 SW ($380, street) out for a test drive, here's what he thought of it:
"It's perfect for rugged snorkeling or simple fun. I took it on bumpy boat rides and to about 30 feet deep with no problems. I even got a half-half shot messing around in a pool, above and below in the same frame. It was pretty impressive underwater, but there are some things you can't do with it, especially involving the flash. Because the flash is on the same plane as the lens, you get a lot of backscatter in the picture, even in extremely clear water. This means you have to concentrate on using available light, not optimum for shooting under ledges or inside shipwrecks. Also, it works best on the underwater shooting mode that locks the focus. Beneath the surface everything is in motion (except the corals), so you don't have time for a delay while the focus adjusts. But once you know its strengths and weaknesses, the quality of the images you can capture is extremely high."
NOTE: The Olympus Stylus 720 SW is only recommended to depths of 10 feet, but Neal reports that it worked fine 30 feet down. Attempt at your own risk.
See more of Neal's Olympus underwater shots after the jump.