MoCP Gallery Talk with Barbara Probst
--Jay DeFoore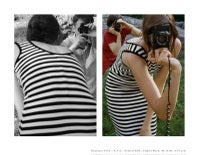 We rarely give enough love to The Windy City, so here's a cool event happening for those of you in or near Chicago. The Museum of Contemporary Photography (MoCP) is hosting a gallery talk with artist Barbara Probst and curator Karen Irvine on Thursday, April 12 at 6:00 p.m.
The two will talk about Probst's exhibition Exposures, currently on view at the MoCP. Probst arranges for multiple photographers to take pictures of the same subject from varying angles (and distances) at precisely the same moment. The result is a series that "dissects the relationship between the photographic 'moment' and perceived reality by showing a single action from numerous points of view."
Be sure to bring your camera just in case any spontaneous photo shoots spring up.
–Jay DeFoore
Photo:
Exposure #34A: N.Y.C., Umpire Rock, 5.15.05, 6:34 p.m.,
Ultrachrome ink on cotton paper
2 parts, 112 × 112 cm/44 × 44 inches each