New Sigma Art Lenses: 14mm F/1.8, 135mm F/1.8 and 24-70mm F/2.8
Meet Sigma's trio of new high-end, full-frame lenses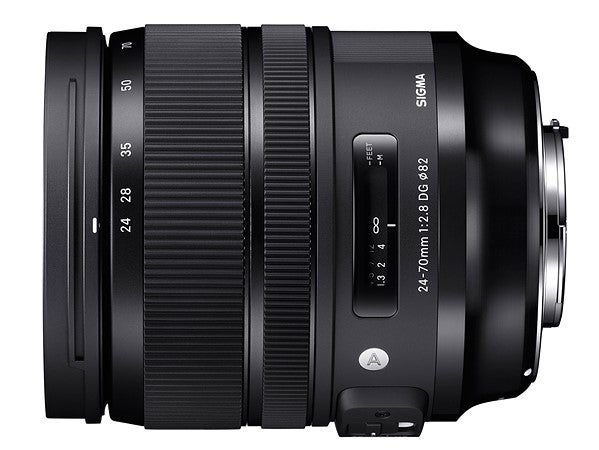 We may earn revenue from the products available on this page and participate in affiliate programs. Learn more ›
To say that Sigma's Art series lenses have been a success would be a dramatic understatement. Now, the company has a trio of new lenses to add to its high-end lens line, including the 14mm F1.8 DG HSM, the 24-70mm F2.8 DG OS HSM, and the 135mm F1.8 DG HSM.
135mm F/1.8 DG HSM Art
Because there has been lots of talk about portrait lenses in the wake of WPPI, we'll start with this telephoto prime lens. It has 13 elements across 10 groups and uses Sigma's floating focus mechanism, as well as a hypersonic motor, as you might expect from a high-end lens like this one.
The press material promises it can cameras up to 50-megapixels without getting maxed out in terms of resolution. The real draw is the f/1.8 maximum aperture, which bumps up the speed a little from the typical f/2 maximum aperture found in many other first-party telephoto primes.
That big aperture means this is a decent chunk of kit, bringing with it an 82mm front filter size and a weight of 2.49-pounds.
14mm F/1.8 DG HSM Art
Sigma loves racking up "world's first" titles, and they're claiming another one with what it's calling the "world's first and only f/1.8 ultra-wide-angle lens." The optical formula gets pretty interesting to create a lens this wide and fast, integrating three FLD glass elements, and four SLD glass elements in order to cut down on chromatic aberration.
The front element is made of molded glass and is shaped specifically to cut down on distortion, so while this is a super-wide, it's not a fisheye. It has full-time manual focus override, as well as the most recent Sigma coatings to cut down on ghosting and flare.
24-70mm F/2.8 DG OS HSM Art
While the Art-series primes tend to get most of the love, there are some zooms in there as well, and now Sigma will carry an Art-series version of the popular 24-70mm f/2.8 lens, complete with optical image stabilization.
Inside this zoom are three SLD glass elements, as well as four aspherical elements to cut down on aberration. Sigma is also promising more torque in the AF system for faster performance, and more metal in the barrel of the lens to increase both durability and rigidity.
There's no official pricing or availability info available just yet (we'll certainly update this post when it's available), but Sigma has always made an effort to keep its high-end glass priced very competitively, so let's hope that trend continues.
We're looking forward to trying these out when retail models become available.