New Gear: Zeiss Batis 18mm f/2.8 Wide-Angle Prime Lens
Sony full-frame camera shooters have a new wide-angle option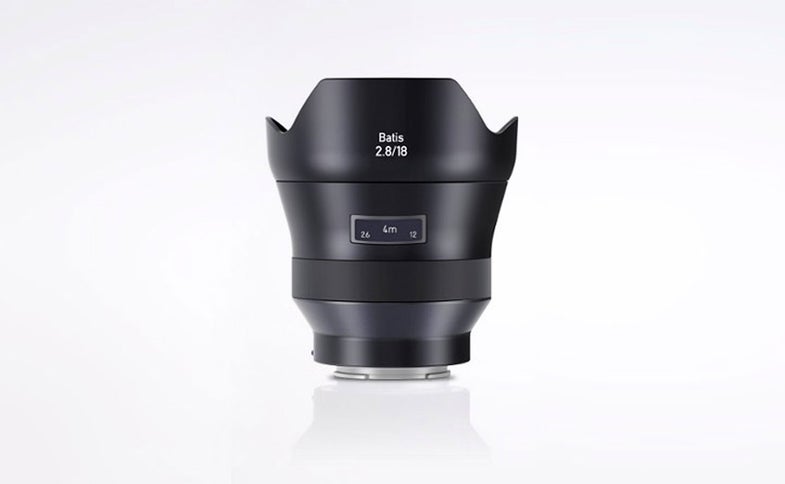 We may earn revenue from the products available on this page and participate in affiliate programs. Learn more ›

If you're a Sony full-frame shooter and you like high-end lenses, 2016 has been a pretty solid year so far. Now, Zeiss has announced an 18mm f/2.8 prime lens as part of their Batis series. According to the press material, this is the widest full-frame fixed focal length lens with autofocus.
The lens expands the low-end of the Batis series, which already included a 25mm f/2 and an 85mm f/1.8 portrait lens. It has 11 elements across ten groups, four of which are aspheric on both sides, and seven of which are made form "special" types of glass.
The outside of the lens maintains the Batis aesthetic with a satiny black finish and a contoured shape without harsh edges. It also has the LED display on the top for displaying information like distance to the subject in focus.
It's an interesting choice to see Zeiss adding a super-wide lens to the Batis line-up before more common lengths like 135mm or even 50mm, but they are covering ground that Sony doesn't offer in a prime lens.
The 18mm f/2.8 Batis will hit store shelves in May for $1,499, which may not be as expensive as some would suspect for a piece Zeiss glass.
We're looking forward to trying it out on some landscape photography to see how well Zeiss is able to reign in distortion at such a wide focal length.