New Gear: Sony Announces G Master Flagship Lenses, Including 24-70mm, 85mm, and 70-200mm Options
Sony has some new pro-grade lenses to go with their A7 cameras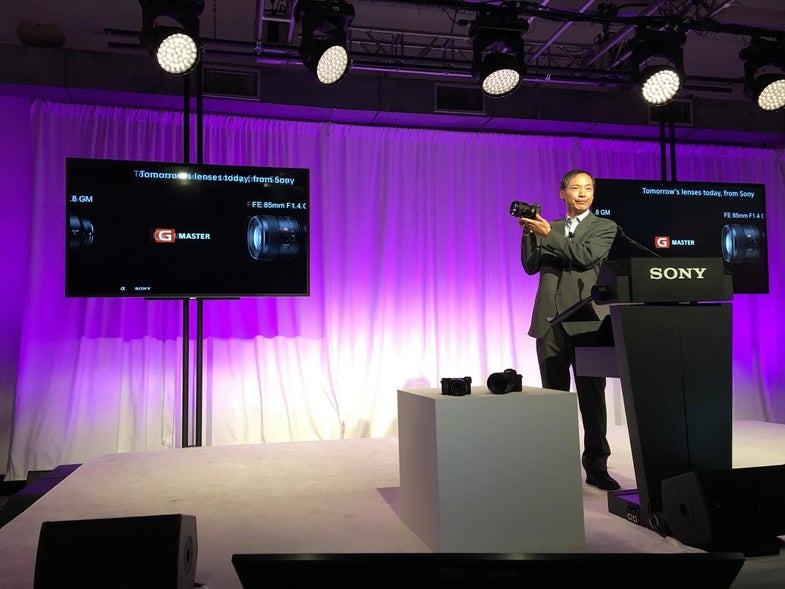 We may earn revenue from the products available on this page and participate in affiliate programs. Learn more ›
Sony updated its top-level consumer camera this morning with the A6300, but it also has some news for pro (or advanced enthusiast) photographers in the form of its new high-end G Master series lenses.
As you might expect, they're full-frame E-mount lenses designed to work with Sony's extremely popular A7-series mirrorless cameras. Three models were announced at launch: The FE 24-70mm f/2.8 GM, the FE 85mm f/1.4 GM, and the FE 70-200mm f/2.8 GM OSS.
As the focal lengths suggest, Sony is very clearly going after working pro photographers like wedding, portrait, and sports shooters. One of the big talking points Sony has about the new lenses are their Extreme Aspheric elements, which are very carefully molded to very low tolerances in order to make the transition from in-focus areas to background blur more pleasing to the eye.
Sony is also putting an emphasis on overall resolution, promising a baseline of 50 lines of resolution per millimeter. Those figures aren't always easy to parse, but Sony suggests the typical standard is 30 lines for other manufacturers on many of their lenses. The takeaway, however, is that Sony is clearly focusing on lenses that can keep up with high-resolution image sensors like the A7R II.
Sony's engineers have put a lot of work into the focusing system, using individual focusing technology for each lens where appropriate. The 70-200mm actually has two different focusing groups, each driven by its own actuator. Also available for that lens: 1.4X and 2X teleconverters for more focal reach.
I'm hoping to get some hands-on time with each lens soon, but these look very promising, especially for Sony pros who have been a bit jealous over the pro-grade lens options of Canon and Nikon shooters.
The 85mm and the 24-70mm will be available in March for $1,800 and $2,200 respectively. The 70-200mm will be coming in May and the price has not been announced.