New Gear: Olympus TG-Tracker Action Camera
Olympus's new action cam is its toughest Tough camera yet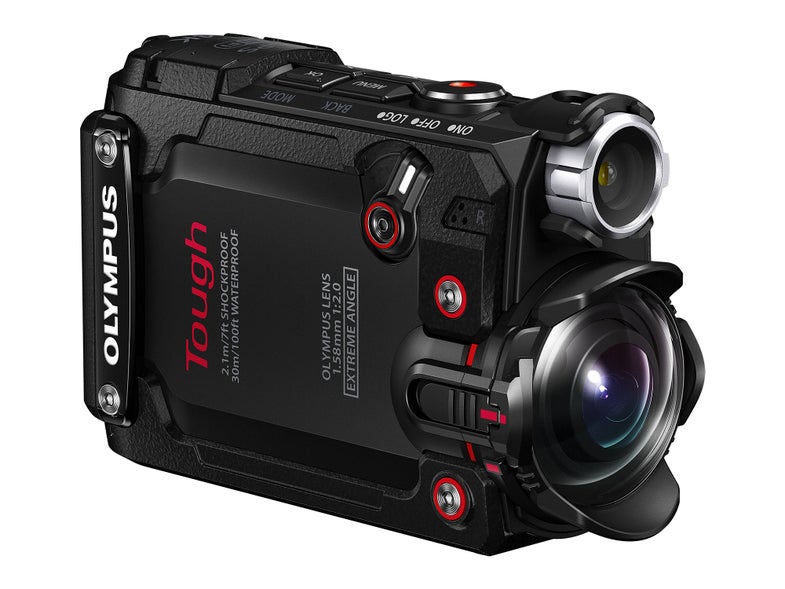 We may earn revenue from the products available on this page and participate in affiliate programs. Learn more ›
Olympus has been a leader in the traditional rugged compact market for some time, but with the new TG-Tracker the company hopes to appeal to action cam fans. Waterproof down to 100 feet, dustproof, shockproof for falls up to seven feet, and able to operate in temperatures down to 14 degrees Fahrenheit, the TG-Tracker is also crushproof in up to 220 pounds of force. It has a 13.9mm-equivalent f/2 lens that boasts a 204-degree angle of view, though that drops to 161 degrees when you turn on image stabilization. In underwater mode, that drops to 156 degrees (126 degrees with IS), and with the included underwater lens protector in place and shooting underwater, the angle of view decreases to 94 degrees (84 degrees with IS enabled).
As the camera's name indicates, it can track and record your location, amongst other details about the shots. The built-in GPS is compatible with both the GLONASS and QZSS satellite systems and is complimented by a barometric-pressure sensor to monitor altitude and depth, a temperature sensor that also works underwater, an electronic compass, and an accelerometer that can be used to place bookmarks in video footage so you can jump straight to the moment you take off or land in videos of activities such as snowboarding or mountain biking.
As is usually the case with action cams, the TG-Tracker is made with an emphasis on video capture. The 1/2.3-inch CMOS sensor only has approximately 8MP, giving it just enough pixels to capture 4K video and the camera includes Olympus's TruePic VII for 4K image processor. Still capture also top out at 8MP in a 16:9 aspect ratio. In addition to the underwater lens protector, the TG-Tracker comes with a grip to help capture steadier footage. Also, since you won't find much light if you dive 100 feet underwater, there's an LED lamp located just above the camera lens that can also be used when shooting on land, or just as a flashlight.
In case you're wondering how you might view all of the data collected by the TG-Tracker, Olympus has a new app called Olympus Image Track that connects to the camera's built-in WiFi so you can look at all of your log data while you browse your photos or videos. The camera also works with the Olympus Image Share app so you can transfer what you've captured to a smart device for sharing or operate the camera remotely from that smart device.
The TG-Tracker is expected to hit stores in June, will be available in either green or black, and should cost about $350.