New Gear: Epson SureColor P5000 Printer Is Its Smallest Pro Inkjet Printer
Lots of new updates come to this 17-inch pro printer, including a new inkset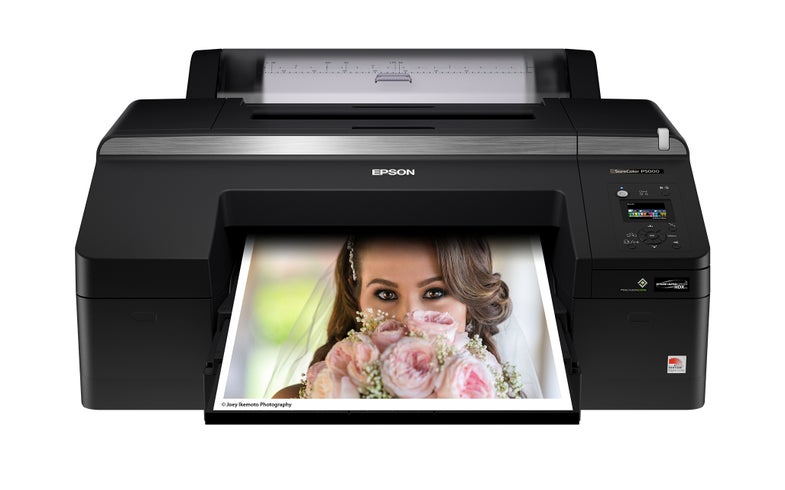 We may earn revenue from the products available on this page and participate in affiliate programs. Learn more ›
Six years ago Epson unveiled the Stylus Pro 4900, wowing users with an array of new features.  It's successor, the new SureColor P5000, is the latest in this popular lineage of pro-quality inkjets that reaches back to 2004's Stylus Pro 4000 and builds on the advancements of older models.  Like the printers that preceded it, the P5000 accepts 17-inch roll media or cut-sheet paper up to 17×22 inches, and uniquely among Epsons in this price range ($1,995, street), it can accept sheet media both front-in and front-out, making it highly versatile.  As the smallest member of their professional large-format inkjet family, the P5000 brings color-critical printing to a device with a form-factor that allows it to fit in a home office or small studio, putting lab-quality prints within reach of those who lack the space or budget for larger printers.
Notably, this latest edition shifts the line into the SureColor family and out of the older Stylus Pro nomenclature, and with the new name comes a new inkset.  The latest UltraChrome HDX set comprises 10 colors that include 4 blacks—photo, matte, light and light light—along with the once-exotic orange and green pigments and regular and light versions of its cyan and vivid magenta inks.  While this inkset has been around for a year or two already, the release of the P5000 marks the first time that the range of pigments will be available for a printer of this size, having previously been relegated to 24 and 44-inch models.  Photo and matte black formulas for the HDX inks have been retooled, with Epson claiming a 150% boost to black densities and wider contrast ratios overall.  To cut down on bronzing—when darker prints are viewed at an angle and reflected light gives the image a "bronzed" look—Epson reformulated their cyan and magenta inks enhancing their ability to be absorbed by inkjet media.
See the release story here.
Like the P5000's larger cousins, the new printer also comes equipped with the brand's PrecisionCore TFP printhead, the piece of hardware that's responsible for actually laying down the ink.  This small (and very expensive to replace) component incorporates a 1-micron thin crystal film that flexes when an electric current is applied to it, acting as a pump.  While older models have relied on similar technology, the new printhead doubles the flexing power of the crystal film and a new micro-scale ink flow path work allow for greater miniaturization. Because the head is so thin, Epson was able to increase the density of nozzles on the head, giving the printer a great DPI resolution while also allowing it to drop more perfectly-formed ink droplets on the media below.  Other improvements, like better control of static and dust build-up inside the printer itself, are aimed at cutting down on clogged nozzles, which should save time and cut back on wasteful cleaning cycles.
While these features may not sound flashy, if they live up to Epson's claims they stand to noticeably improve print quality.  As anyone knows who's owned an inkjet, they don't last a lifetime, and if you're getting ready to replace your desktop printer and ready to make the jump to larger, more versatile machine, the P5000 might just be a silver bullet.