New Gear: Canon EF-M 28mm f/3.5 IS Macro Lens With Built-In Macro Ring Light
A clever design for Canon's M-series macro lens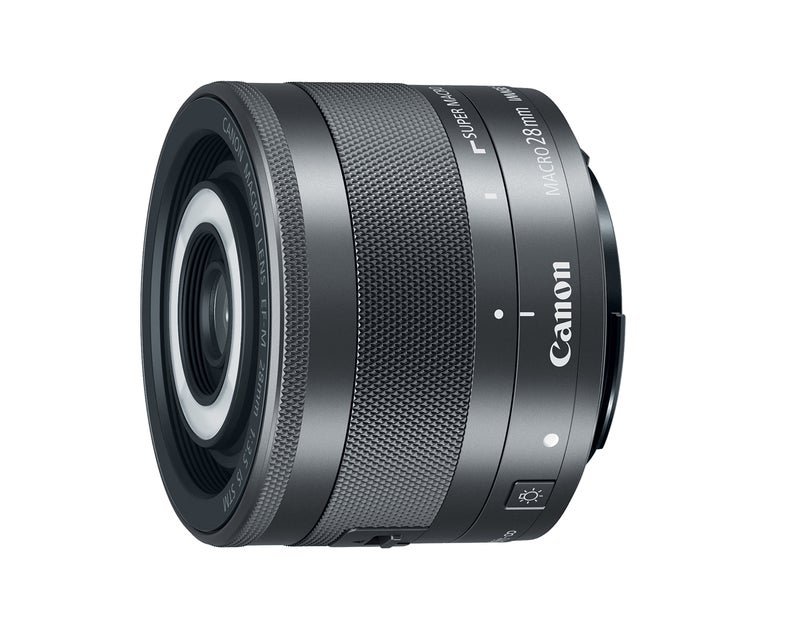 We may earn revenue from the products available on this page and participate in affiliate programs. Learn more ›
Canon has been increasing its efforts in their M-series mirrorless cameras in recent months, and today they have announced something truly unique for it in the form of the EF-M 28mm f/3.5 IS Macro lens, which sports a pair of built-in lights that form a ring around the front element of the lens.
Ring lights are a familiar tool for macro photographers because they provide even illumination from almost every angle around the lens. It can be very difficult to get even lighting on an object without blocking it during a macro situation, so putting the light in front of the lens is a good solution. The EF-M 28mm lens has a pair of lights that can be used in tandem as a de facto ring light, or individually to provide more shadows and emphasize texture in the subject.
The lens self has a full-frame equivalent field of view of a 45mm lens, which puts it in the neighborhood of the 50mm macro, which is a standard option in many camera systems. It does true 1:1 macro, so you can get those impressive up-close shots, and even has a Super Macro Mode, which gives it 1.2x magnification if you really need to catch a small detail or make things look abstract.
IS is super important for macro photography because camera shake is so readily evident when it's present in the photos, so Canon used the same IS system they put in their 100mm F/2.8L macro lens. It also uses the smooth Stepping Motor to drive focus.
In another nice touch, the end of the lens is tapered, almost like a microscope lens shape, in an effort not to block the subject being photographed.
The lens will be available for $300, which actually seems like a very solid price point for something so unique. I know a dedicated macro lens is something of a specialty tool, but it seems very smart for Canon to try and beef up the M system with something that no one else is offering. We're looking forward to trying out the lens and its new lighting system. Look for a full review when it hits the test lab.